EVGA Corporation, the leading-edge 3D processor graphics cards and motherboard manufacturer, announces a new addition to the GTX 295 family, the EVGA GeForce GTX 295 CO-OP.
This card combines two GPU's onto a single PCB (Printable Circuit Board), a clear indication on why this card is called CO-OP! Want even more performance? Pair up two of these for QUAD SLI, or pair up with the standard GTX 295.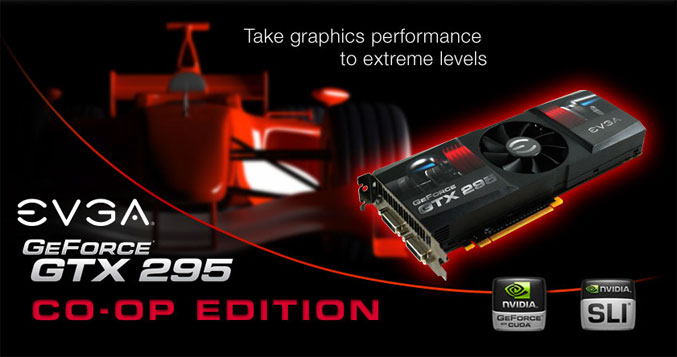 In addition to the GTX 295 CO-OP Edition card, EVGA is also announcing the exclusive EVGA GTX 295 CO-OP Edition Hydro Copper Waterblock. This product is proof that EVGA is the undisputed leader for water cooling solutions! With a sleek, full cover copper design, EVGA lives up to the Hydro Copper name by incorporating only the best attributes: an extreme high flow path desigh with a unique, integrated, pressure point allows the Hydro Copper Waterblock to keep your GTX 295 CO-OP as cool as possible while under the heaviest of graphical loads! Also included are 3/8in and 1/2in barbs which aid in the high flow interior.

Specifications

Performance
NVIDIA GTX 295
576 MHz GPU
480 Processing Cores
400 MHz RAMDAC
Memory
1792 MB, 896 bit DDR3
2016 MHz (effective)
225.79 GB/s Memory Bandwidth
Interface
PCI-E 2.0 16x
DVI-I, DVI-I
SLI Capable
Resolution & Refresh
240Hz Max Refresh Rate
2048×1536 Max Analog
2560×1600 Max Digital
Requirements
Minimum of a 680 power supply.
(Minimum recommended power supply with +12 Volt current rating of 46 Amps.)
Source: EVGA