Verbatim(R) Americas, LLC an industry innovator in the data storage industry for 40 years, announced today its new TUFF-CLIP(TM) USB Drives. Available now with capacities of 4GB in turquoise and 8GB in black, the new flash drives combine clip-and-go convenience with industrial strength toughness. Verbatim's TUFF-CLIP USB drives feature an ultra-rugged plastic enclosure with a convenient retractable slider that protects the USB connector. Tough enough for active users to carry their data wherever they go, the innovative design also has an integrated carabineer clip that can be securely fastened onto a backpack, key chain, belt loop or notebook. The drives come pre-loaded with password security software for Windows systems that protects sensitive data in a user-defined private zone, while allowing a public zone for open access and sharing of non-sensitive content.
"The TUFF-CLIP drive's enclosure is made of ABS plastic and built to take everyday knocks in stride," explained Mark Rogers, Verbatim Product Manager. "With the clip-on design, the drives are also less likely to get lost or misplaced; and with the retractable cover, there is no cap to lose."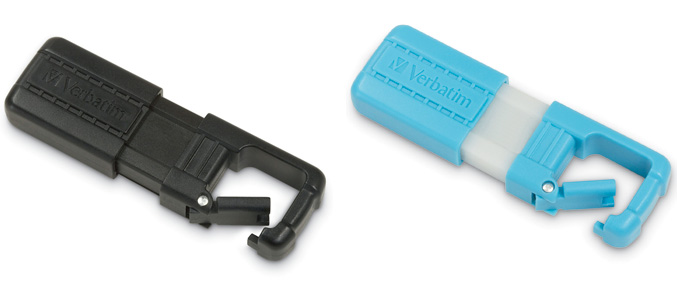 The features that make the TUFF-CLIP USB drives both tough and convenient, also make them ideal for young, active users who want to share data files, music, photos or videos; and students who want to transport research and project files between school and home. The drives will also appeal to on the go business users who must have current files with them wherever they go.
With support for Windows(R), Mac(R) and Linux(R) systems, the TUFF-CLIP USB Drives also provide true cross-platform compatibility and a convenient way to transfer files between systems.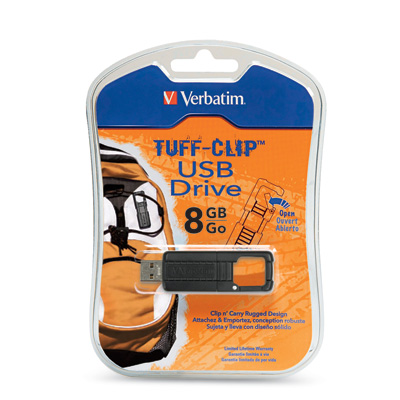 Certified for Windows Vista(TM), TUFF-CLIP USB Drives support Windows ReadyBoost(TM), a feature that allows Vista PC users to allocate a portion of the device's unused flash memory to speed system performance.
Verbatim's new TUFF-CLIP USB Drives measure 2.90" x .45" x 0.90" and weigh less than 2 ounces. When connected to a USB 2.0 or USB 1.1 port of a desktop or notebook computer, the system automatically recognizes the drive as a new removable drive. With its solid-state design (no moving parts) and non-volatile flash memory, the drives will retain data for 10 years or more.
Availability and Pricing
Designed for Windows Vista, XP or 2000; Mac OS 9.x or higher and Linux kernel 2.6x or higher systems, Verbatim TUFF-CLIP USB Drives are available through Verbatim retail partners and distribution channels. The suggested list prices are US$29.99 for the 4GB drive and US$49.99 for the 8GB drive. The complete package includes the TUFF-CLIP USB Drive, pre-loaded password security software for Windows systems and a Quick Start Guide.