Gateway introduced in Canada today, the new Gateway LT22 Series of Notebooks, and also the Gateway LT32, both of which provide amazing performance and high definition capabilities for consumers that desire a compact and functional device.
The Gateway LT22 comes equipped with the AMD Athlon II Neo Processing Technology, combined with ATI Graphics card for a smooth high definition video playback. The LT22 Notebook Line also features a 1080P HDMI output, which offers the ability to connect the notebook to a home entertainment system, or an LCD Display, and deliver high-definition audio and video on it.
The Gateway LT22 Notebooks have a 10.1-inch display, which is LED backlit and is less than an inch thin, weighting at only 2.76 pounds. The Gateway LT32 has a bigger 11.6-inch HD LED-Backlit display.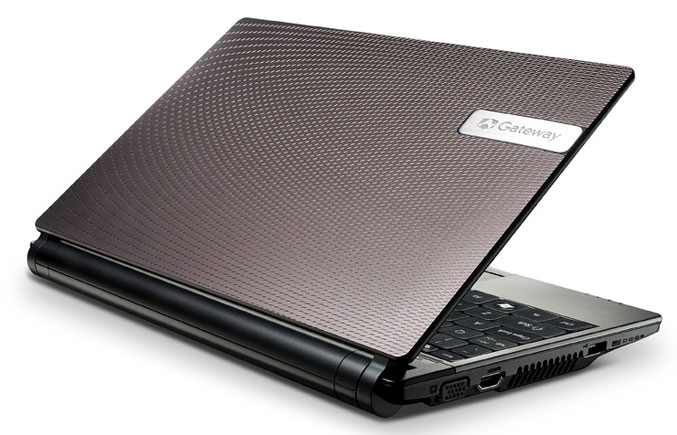 "The new Gateway LT32 and LT22 are our ultra-mobile entertainment powerhouse netbooks," said Chris Chiang, retail product marketing manager, Gateway. "They both deliver a heightened level of performance and HD entertainment with the powerful combination of AMD Neo processors, ATI graphics and the crisp and clear HD display. The HDMI port means that customers can enjoy their digital entertainment on a large external display wherever they go."
Powered by AMD Athlon II Neo K125 Processor combined with DDR3 system memory and an ATI Radeon HD 4225 Graphics Card with 384MB of dedicated system memory, the Gateway LT22 offers fast web browsing, music downloads, and amazing performance when handling multiple tasks. The ATI Graphics support results in sharper high definition images and smooth video playback and games. The Display of the Gateway LT22 notebook has a resolution of 1024 x 600 pixels and a 16:9 widescreen aspect ratio, ideal for both internet videos and movies.
The AMD-Powered Gateway LT22 Notebook also features a 250GB Hard Disk Drive and a six-cell battery that provides amazing battery life in up to six and a half hours. This model notebook has a Wi-Fi b/g/n, providing connection to wireless home networks and hotspots, while the integrated High Definition webcam offers an easy way to record videos or capture photos. The built-in digital microphone makes the system excellent for Skype or any other messenger that features voice communications.
In addition to the 1080p HDMI port, the LT22 also has two USB 2.0 ports, and an all-in-one digital card reader.
The Gateway LT22 comes in a streamlined design available in matte silver and brown for the price of $349.99 with Microsoft Windows Starter.