Leveraging its proven, fourth-generation high-capacity hard drive technology, Hitachi Global Storage Technologies (Hitachi GST)  announced that it is now shipping the industry's first enterprise-class, 7200 RPM 2TB offering, the Ultrastar A7K2000.
The new Hitachi GST Ultrastar A7K2000 is designed, manufactured and tested to ensure enterprise-class mean-time-between-failure (MTBF) of 1.2 million hours in demanding 24×7 nearline applications. With a combination of high capacity and reliability, 7200 RPM performance, low power, and enterprise-class features, the Ultrastar A7K2000 drive is the ideal enterprise SATA drive for applications such as data warehousing, disk-to-disk backup, cloud computing and massive scale-out storage implementations where storage density, GB-per-watt and cost-per-GB are critical parameters.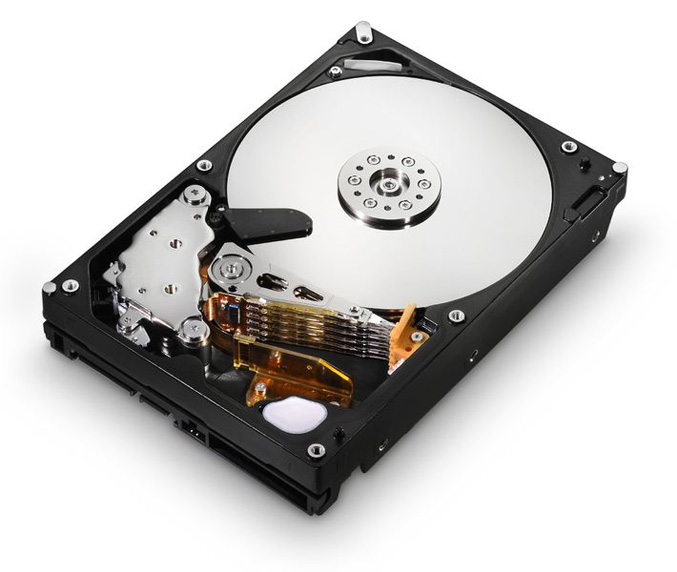 Double the Capacity Density
As enterprises grapple with the unabated growth of digital content, maximizing storage rack-density and floor tile space, while simultaneously reducing energy consumption, are top concerns. In today's global economy, data centers are pushing the boundaries to make storage more efficient by implementing leading-edge technologies like virtualization, thin provisioning and de-duplication – and they're increasingly turning to Hitachi GST's capacity-optimized Ultrastar drives to help accomplish that goal. At 2TB per drive, the A7K2000 has double the capacity of the prior generation A7K1000 drive in the same 3.5-inch form factor.
"Xyratex is pleased to work with Hitachi qualifying the industry's first enterprise-class, 7,200 RPM 2TB hard disk drive," said Todd Gresham, senior vice president, Networked Storage Solutions, Xyratex. "We welcome this benchmark product from Hitachi, whose family of Ultrastar drives continues to offer us the capacity, performance, reliability, and low power that our storage and server OEM customers require."
Industry Leading Reliability
In its fourth generation, the Hitachi Ultrastar A7K2000 drive can be easily integrated into new and existing storage systems, enabling higher capacity density and drawing less power in the same 3.5-inch footprint. Specifically designed for the enterprise, Ultrastar SATA drives feature Hitachi's patented Rotational Vibration Safeguard (RVS) sensor technology, which optimizes drive performance in multi-drive RAID arrays and rack-mounted systems. Backed by a five-year warranty, the Ultrastar platform has earned Hitachi GST a reputation among server and storage vendors as a global partner dedicated to delivering the highest quality and reliability in the industry.
"Whether you're a systems integrator, whitebox manufacturer or global OEM, your storage requirements demand flexible and creative solutions. The more you can tailor those solutions to the best balance of capacity, reliability, low power and cost, the more your customer's can achieve new levels of storage efficiency," said Brendan Collins, vice president of marketing, Hitachi GST. "With the addition of the A7K2000, Hitachi GST continues to provide one of the broadest ranges of enterprise storage products in the world—from premium, enterprise-class, capacity-optimized SATA drives to performance oriented 10,000 and 15,000 RPM drives—ideal for virtually every aspect of storage in the data center."
7200 RPM Performance and Reduced Power Consumption
Operating at 7200 RPM, the Hitachi Ultrastar A7K2000 offers better overall performance than slower-RPM, capacity-oriented drives, and does so at impressively low power-consumption rates. When compared to Hitachi's previous generation Ultrastar A7K1000, the A7K2000 offers a 155 percent improvement in sustained data transfer rates, and a 120 percent improvement in watts-per-GB. With five Advanced Power Management modes, a 36 percent reduction in watts during low RPM idle mode, and using less than 1 watt during standby/sleep modes, the Ultrastar A7K2000 can help data centers achieve lower AC power and HVAC requirements, freeing up precious headroom for growing enterprise needs. The Ultrastar A7K2000 is halogen-free and RoHS compliant.
Data Safety and Security
No IT manager wants their company to become front-page news as another enterprise that has suffered an embarrassing, accidental disclosure of sensitive data, or to be responsible for the associated liabilities involved. For this reason, the Ultrastar A7K2000 is also available with a bulk data encryption (BDE) option. When enabled, the Hitachi BDE implementation encrypts all data on the drive using a private security key as it is written to the disk, and then decrypts it with the key as it is retrieved, giving users an extreme level of data protection. Unlike software-based encryption solutions, Hitachi's BDE implementation is hardware-based, so it won't slow the system down. Hitachi's BDE also speeds up and simplifies the drive re-deployment and decommissioning process. By deleting the encryption key, the data is rendered unreadable, thereby eliminating the need for time-consuming, multi-pattern data overwrite.
Availability
The 2TB Ultrastar A7K2000 is now available worldwide with a five-year warranty. 500GB and 1TB versions of the drive will begin shipping in the current quarter.
Source: Hitachi GST