MasterCard Worldwide, working in collaboration with Toshiba Corporation and Dai Nippon Printing, today announced that a dual-interface card equipped for contactless MasterCard PayPassTM and contact EMV payment applications is launched in Japan.
The card offers the combined convenience and security of MasterCard's M/Chip 2.1 EMV technology for contact applications, such as ATMs, and PayPass M/Chip Flex technology based on the global ISO/IEC14443 Type A standard for contactless applications, such as small, cashless payments.
Companies in Japan that are currently issuing EMV cards now can easily offer their customers the added flexibility of quick, easy and secure payments with MasterCard PayPass.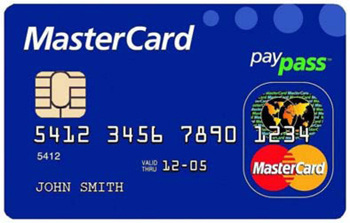 Japan-issued PayPass cards can be used at participating merchants both domestically in Japan and worldwide. This global interoperability makes PayPass especially useful for cardholders who travel internationally. It is also ideal for payments where speed is essential, such as gas stations, convenience stores and taxis.
Since launching PayPass in 2002, MasterCard has seen its proprietary contactless application build strong momentum worldwide, with more than 55 million PayPass-enabled cards and devices in use as of Q1 2009. MasterCard cardholders enjoy fast 'Tap & Go' cashless shopping with no signature required(1) at more than 146,000 merchant locations worldwide. There are a number of PayPass trials and rollouts currently underway in 29 countries, including Australia, Canada, China, the Czech Republic, France, Germany, Indonesia, Italy, Japan, Korea, Lebanon, Malaysia, Mexico, Mongolia, the Philippines, Poland, Romania, Russia, Serbia, Slovakia, Spain, Switzerland, Taiwan, Thailand, Turkey, the United Arab Emirates, the United Kingdom and the United States.
PayPass enables card issuers to differentiate their card products particularly when targeting co-brand opportunities with retailers such as shopping malls, department stores and theaters. There are now more PayPass acceptance points in Japan as merchants increasingly install compatible NFC(2) terminals to increase operational efficiency and enhance customer convenience and satisfaction.
Toshiba produces PayPass-enabled chips and DNP develops and produces plastic cards and antennae. Together with MasterCard, Toshiba and DNP look forward to expanding the Japanese market for secure and convenient payment applications.
Source: Toshiba