Combing Color Film Print Technology with ocean wave patterns in design along with a weight of at most 2.5kg (including battery), MSI VR630 is much more portable than other 16" notebooks in the market. Besides, featuring independent numeric keypad to the right of the keyboard, so users requires no extra learning process on the part of the user.
Additionally, VR630 has a Multi-DVD burner, 3-in-1 card reader, and 3 well distributed USB 2.0 ports, facilitating connection with various types of computer peripherals. Moreover, featuring the 802.11 b/g/n wireless networking standard, the VR630 will get you on the internet wirelessly anytime. The VR630 is ideal for any environment, whether home, office, or school.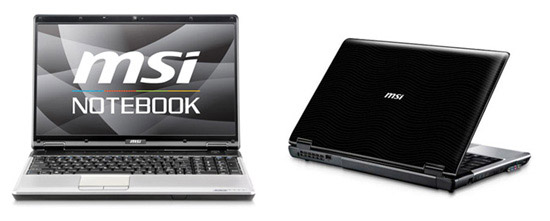 Extraordinary Texture Unique to the Sense of Touch
– Realistic Ocean Wave Patterns with Extraordinary and Exquisite Textures
Combing Color Film Print Technology with ocean wave patterns in design, the VR630 has been injected with a brand new texture to personal notebook computers. Ocean wave patterns expresses a sense of tranquility so the users may feel like they are drifting in a world of music, leaving all the troubles and insecurities of the real world behind and embrace the peace and comfort of nature. The perfect sense of level from dark black to light silver can provide the VR630 a more contemporary fashion quality, never missing a beat.
The Highly Anticipated Feast of the Vision
– 16:9 Golden Theatrical Ratio of 16″ LCD screen
Comparing the 16:10 screens of the regular notebook computers to the 16:9 golden theatrical ratio and 16" screen of the VR630, the visual span has been extended by 14%. The black bars on the top and bottom of the screen can be avoided, very suitable for playing High Definition movies so you may watch it from any angle and truly enjoy the advanced imagery.
– Exclusive MSI VIVID Image Enhancement Technology
MSI exclusive VIVID LCD technology is able to display signals for better richness in colors. The colors from the display of the VR630 have an intense sense of levels, and you can even detect in the presence of the finest details. Whether you are playing a computer game, editing images, or watching movies, the images are presented as 3-dimensional as it possibly can get.
Exclusive ECO Engine Power Management System
The VR630 has selected the brand new ECO Engine, the outstanding and unique power saving function by VR630, as the power management function to extend the battery running time while performing different tasks. Press on the ECO touch sensor repeatedly to switch among the 5 different modes – Gaming mode, Movie mode, Presentation mode, Office mode, and Turbo Battery mode. This is to minimize the battery power consumption while performing game applications, playing multimedia applications, performing presentation applications, and dealing with documentation.
Making Its Mark in Movie Viewing
– High-Resolution Webcam and Mic for Wireless Communication
Built-in a 1.3 mega pixel webcam and an internal mic, the VR630 enables you to engage in real-time sharing and live-video, such as participating in videoconferencing in order to enhance your work efficiency.
– Create a High-Quality, All-Around, Wireless Living Space
802.11 b/g/n wireless networking standards and can get you on the Internet wirelessly anytime. Because of Bluetooth wireless transmission capability, you can also create a high quality digital living space all around.
Powered by AMD Turion X2 Ultra Dual-Core Processor:
To deliver truly high performance computing power, the VR630 uses the AMD Turion™X2 Ultra dual-Core/ Sempron Mobile processor. Additionally VR630 is also equipped with a 3-in-1 card reader, 3 well distributed USB 2.0 ports, and a Multi-DVD burner. So, you can easy to edit or save high-quality photos/video as desktop PC.
| | |
| --- | --- |
| CPU Support | AMD Turion™X2 Ultra dual-Core/ Sempron Mobile processor |
| Operating System | Genuine Windows Vista® Home Premium |
| Chipset | nVIDIA MCP77MV |
| Graphic | UMA |
| Memory | support up to 4GB |
| LCD | 16″ WSXGA 16:9 (1366 x 768) LCD |
| HDD | 160 / 250 /320 GB SATA |
| Optical | DVD Super Multi |
| Card reader | 3 in 1 (support MS, SD,MMC,) |
| I/O | D-sub x 1 , USB 2.0 x 3, Mic-in , Headphone, Line in |
| Battery | 6 cells / 9 cells |
| Wireless | 802.11 b/g/n |
| Communication | Modem, 10/100/1000 Mbps GbE LAN |
| Webcam | 1.3M Webcam |
| Sound | HD Audio, 2 Stereo speakers |
| Expansion Slot | Express Card x 1 |
| Dimension | 374 x 246 x 26.8-35.5mm |
| Weight | 2.54Kg( w/ Battery) |