World-leading All-in-One PC brand MSI will be showcasing several new models that embody the global trend towards energy-saving PC design at the CES 2010 exhibition. The new models, which feature the Pine Trail technology platform with the new Intel® AtomTM processor, include the Wind Top AP1920 All-in-One PC and the Wind Box DE220 and Wind Box DC500 Mini PCs. These products deliver low energy consumption with no compromise in performance; their average power consumption is more than 80% lower than that of a standard desktop PC. The compact, lightweight design also takes up less space than a traditional PC.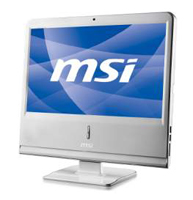 Low Energy Consumption and High Performance with Intel's New Pine Trail Platform
Intel® recently announced the launch of its new Pine Trail technology platform, using the new-generation AtomTM (Pineview) processor. This processor features enhanced Northbridge chip performance, and integrates the graphics processing unit (GPU) and memory controller into the CPU, while the Intel NM10 Express chipset (TigerPoint) continues to handle other functions. With Northbridge chip functionality integrated into the CPU, the Pineview platform requires only two chips as opposed to the traditional three-chip solution, making for lower energy consumption and enhanced performance. In terms of technology, what distinguishes the Pine Trail platform from its predecessors is the fact that it offers a combination of both enhanced performance and a reduction in energy consumption of over 50%. At the same time, the change from three chips to two has made it possible to reduce the size of the chipset by around 70%. Intel's Pine Trail platform solutions include the Pine Trail-D for desktop PCs and the Pine Trail-M for laptops. MSI's All-in-One PC and Mini PC products use the Pine Trail-D platform. While the emphasis in the Pine Trail-M platform is on achieving longer battery run-time, the Pine Trail-D platform provides superior overall performance. Two versions are available: the D410 single-core processor and the D510 dual-core processor. While ensuring reduced energy consumption, they also provide the high performance that people expect from a desktop PC.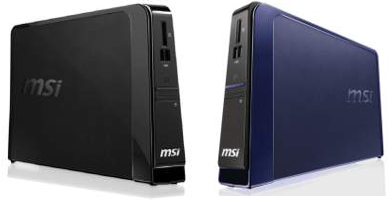 The Wind Top and Wind Box Series Combine Slim, Lightweight Design with Outstanding Performance
MSI will be showcasing its Wind Top AP1920 All-in-One PC at this year's CES. The Wind Top AP1920 is the world's slimmest netbook, with a width of just 35 mm. With a 16:9 18.5-inch display, the AP1920 provides a 14% increase in the exaggeration ratio. The AP1920 uses Intel's new Pine Trail-D platform, with the AtomTM D510/D410 processor. This provides outstanding performance equivalent to that of a conventional desktop, while ensuring low energy consumption and low noise. The AP1920 can be wall-mounted, and the viewing angle can be adjusted between –5 and 15 to permit optimal viewing. With its elegant, fashionable exterior design, the MSI Wind Top AP1920 will add an extra touch of refinement to any home.
MSI will also have its Wind Box DE220 and Wind Box DC500 Mini PCs on show at CES 2010. The Wind Box DE220 is a 2L mini PC; the Wind Box DC500 is a 4.7L model. Both use Intel's new Pine Trail-D platform, based around the AtomTM D510/D410 processor, which provides a combination of high performance and low power consumption. The Wind Box DE220 is small and lightweight (about the size of a sheet of A4 paper), and can be wall-mounted behind a display, effectively converting a conventional PC into an all-in-one model. The DC500 is a highly original device. Designed to stand upright on a desk, it is approximately 60% smaller than a conventional 15L desktop PC, making it the ideal choice for people who want to be able to save energy and save space.
Source: MSI