The new G60J and M60J are the newest notebooks from the ASUS G Series to be powered by the latest Intel® Core™ i7 processor for multi-core, multitasking muscle while on-the-move.
Both sporting a 16-inch high definition display, the ASUS G60J features graphics powered by an NVIDIA® GeForce® GTX 260M graphics card, as well as immersive audio reproduction for discerning gamers, whereas the ASUS M60J is equipped with an NVIDIA® GeForce® GT 240M graphics card and high capacity storage for endless multimedia entertainment. For all their intended purposes, the ASUS G60J and M60J are designed to provide mobile entertainment at the highest level, anytime, anywhere.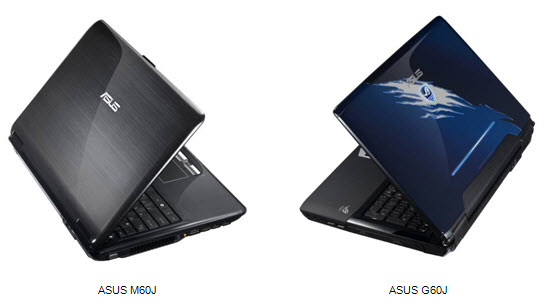 The New ASUS G Series—Taking Gaming to the Next Level
The 16-inch ASUS G60J is the definitive notebook for today's adrenaline-filled world of cyber-gaming. It delivers stunning 3D performance via an Intel® Core™ i7 processor and a NVIDIA® GeForce™ GTX 260M graphics card with 1GB VRAM, together achieving an incredible 3DMark® 2006 score of well over 11,000. The G60J also features Turbo Boost technology which super-charges CPU performance from 1.73GHz to 3.06GHz on the Intel® Core™ i7-820QM.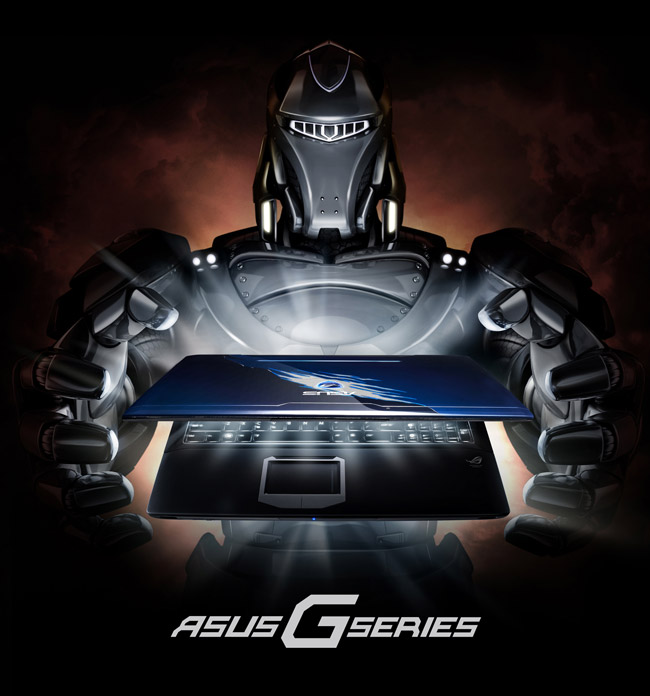 These features are complemented by Altec Lansing® speakers and EAX Advanced HD 4.0 which provides an immersive gaming audio experience by adding 64 sound effects to supported games. CMSS-3D further enhances the overall experience by channeling sound above and around the user for the full surround sound experience. Finally, the new ASUS G Series is equipped with an illuminated chiclet keyboard which enables users to game in the dark. For users seeking the G60J's comprehensive features in a more compact form factor, ASUS also offers the 15.6-inch G51J.
ASUS M60J—A Symphony of Multimedia Performance, Productivity and Comfort
As befitting a notebook designed for hours of limitless entertainment, the ASUS M60J features a flushed 16-inch high definition display supported by a NVIDIA® GeForce® GT 240M graphics card with 1GB DDR3 VRAM for vibrant and crystal clear images. Complementing the spectacular visuals in pitch-perfect unison are Altec Lansing® speakers with Dolby® 2 Home Theater certification. They provide an immersive cinematic audio experience that adds a sense of realism to movies, videos and games. Users can also take more multimedia and data files with them wherever they go, thanks to dual hard disk drives providing up to 1TB of storage space.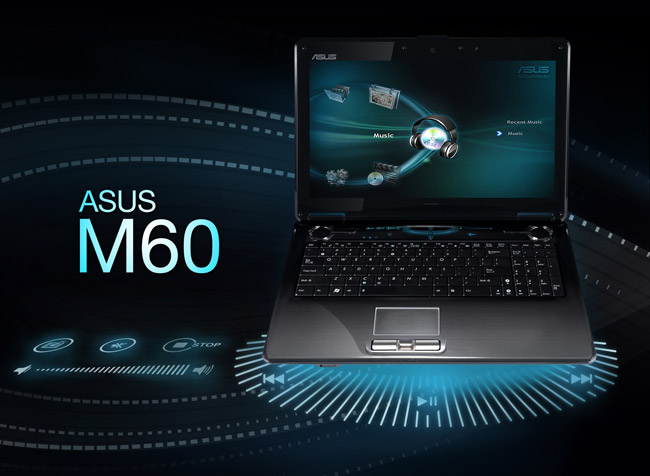 The ASUS M60J also features AI TouchMedia, a one-touch multimedia center with an intuitive control panel that combines both hardware and software interfaces to control the playback of videos, photographs, music, and other forms of multimedia. Users can create playlists, modify pictures, and watch movies and videos effortlessly. The ASUS M60J's palm-rest and lid are decked in exquisite satin-brushed aluminum created by Infusion technology, making it incredibly resilient against the scratches and abrasions resulting from day-to-day computing. Lastly, the ASUS M60J sports the red dot design award-winning Chocolate Keyboard which features concave key-caps, and tighter key-spacing to minimize dust accumulation and improve water resistance.
Specifications
ASUS G60J / G51J
ASUS M60J
Processors
Intel® Core™ i7-820QM Processor, 1.73GHz with turbo up to 3.06GHz
Intel® Core™ i7-820QM Processor, 1.73GHz with turbo up to 3.06GHz
Intel® Core™ i7-720QM Processor, 1.6GHz with turbo up to 2.8GHz
Intel® Core™ i7-720QM Processor, 1.6GHz with turbo up to 2.8GHz
Chipset
Mobile Intel® PM55 Chipset
Mobile Intel® PM55 Chipset
Operating System
Windows® 7 Ultimate
Windows® 7 Home Premium
Genuine Windows Vista® Ultimate/Business/Premium/Basic
Memory
2 x DDR3 SODIMM 1066MHz, expansion up to 4GB SDRAM
2 x DDR3 SODIMM 1066/1333MHz, expansion up to 4GB SDRAM
Display
16-inch HD (1366×768) LED-backlit display (G60J)
16″ LED HD (1366×768) Color-Shine (Glare-type)
15.6-inch FHD (1920×1200) LED-backlit display (G51J)
Graphics Card
NVIDIA® GeForce® GTX 260M with 1GB DDR3 VRAM
NVIDIA® GeForce® GTX 240M with 1GB DDR3 VRAM
Hard Drive
2.5″ SATA 250/320/500 GB (5400 rpm)
2.5″ SATA 320/500GB (7200 rpm)
2.5″ SATA 250/320/500 GB (5400/7200 rpm)
Dual HDD Support
Dual HDD Support
Optical Drive
DVD Super-Multi / Blu-ray Combo
DVD Super-Multi / Blu-ray Combo
Video Camera
Built-in 2M pixel camera
Built-in 2M pixel camera
Dimensions and Weight
375mm x 265mm x 34.3~40.6mm, 3.3kg with 6-cell battery and single HDD)
375mm x 265mm x 34.3~40.6mm, 3.3kg with 6-cell battery
Source: Asus