Fujitsu announces the release of the Fujitsu LifeBook MH380 today. Designed to impress, this Mini-Notebook comes equipped with the wherewithal for ultimate usage anywhere you are.
Weighing less than 1.3kg (1), LifeBook MH380 is embellished in an aesthetically pleasing chrome-ring shell, letting you make a statement of elegance for the new season. Made in Japan with superb quality, the MH380 is the perfect Mini-Notebook for all occasions.
"Fujitsu prides quality above all else and has created the perfect personal companion for 2010 with the Fujitsu LifeBook MH380. It's not just a mere style upgrade of its predecessors, it is a piece thoughtfully crafted to meet the needs of the new consumer: always on-the-go and always looking for the best answer to user-friendliness and technological capabilities" commented Mr Raymond Foo, Associate Vice President, Product Marketing and Engineering, Fujitsu PC Asia Pacific.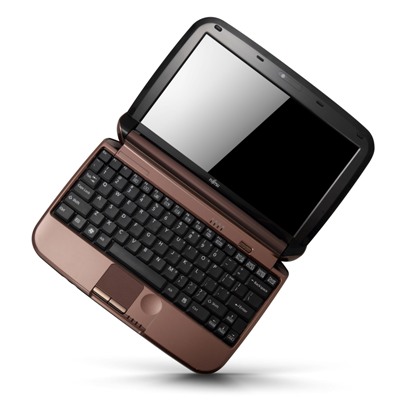 SHARING HAS NO LIMITS
The Fujitsu LifeBook MH380 has USB sharing applications that can easily use the ODD drive (DVD/CD) of home PCs and notebooks through a wireless or USB connection. It also allows the MH380 to perform as a large USB memory (max. 32GB) to share files with another computer by simply connecting to the computer with the bundled Mini-USB Cable. Fujitsu PC is the pioneer of the USB flash memory drive technology.
FULL-FEATURED PC CAPABILITIES
With a 10.1-inch HD Back-Light LED Glare display at max. 1366×768 pixels and 200nits brightness, the LifeBook MH380 is perfect for superb video viewing both indoors and outdoors. This gem features a generous 250GB 5400rpm SATA HDD and supports up to 2GB of RAM. It is also suited with SD and SDHC card slots.
Of the more refreshing family of functions is the picture rotation capability of the LifeBook MH380. With the rotate and zoom functions of the multi-gesture Touch Pad, pictures are now easily positioned and arranged with the single touch of your fingers. It has a unique dual scroll function that includes both the conventional Multi-gesture Touch Pad and a Scroll Wheel– which you can use to freely scroll lengthy email chains or pages.
Picture functions notwithstanding, the MH380 comes equipped with clear visual and voice VoIP communications with CyberLink's YouCam, microphone and stereo speakers.
Not just a Mini-Notebook to serve casual tasking needs, the LifeBook MH380 is powered by the latest Intel® Atom™ N450 processor and also serves as a work-on-the-go companion with the ThinkFree Mobile Office Suite software for easy access and editing of presentation slides, word documents and spreadsheets.
PERFECTLY SEAMLESS CONNECTIVITY
One of the things that make the LifeBook MH380 the ultimate companion is the myriad of connectivity capabilities it is furnished with – Bluetooth® V2.1 +EDR, 100/10Mbps Ethernet, Wireless LAN 802.11b/g/n and a 1.3 Mega Pixel Camera.
THE STYLE FACTOR
The Fujitsu LifeBook MH380 emulates the elegant style designed in Japan with its understated yet sophisticated chrome-ring outline and flowing curved corners. The simple embedded chromed Infinity Mark adds the finishing touch to an already beautiful Magnus Opus. Coloured in Gorgeous Brown, Ivory White and Diamond Black, the LifeBook MH380 is dichotomously flexible in its appearance, matching its user's mood and preference. The design is also complemented with the tastefully done 82-keys keyboard with 17.5mm Key Pitch and a 1.9mm comfortable stroke.
Fujitsu remains firmly committed to the promotion of a cleaner environment and complies with the European Union's Restriction of Hazardous Substances directive (RoHS) across its entire range of products. In addition, Fujitsu has established a set of commitments that goes beyond RoHS requirements, thus allowing it to stay keenly focused on its customers' health and well-being as well as to embrace a healthier environment for all. By adopting a green factory concept and being committed to the cause of energy-efficient computing, Fujitsu also fights to sustain the Earth as a sponsor and a member of the Climate Savers Computing Initiative.
Source: Fujitsu