Samsung Electronics Co., Ltd., a world leader in advanced semiconductor solutions, announced that it has expanded its industry-leading portfolio of CMOS image sensors to include two new CMOS image sensors – the S5K6A1 and the S5K5B3 – for use in notebook computers and other devices requiring video capture. Samsung's new 1.3Megapixel (S5K6A1) and 2.1Megapixel (S5K5B3) imagers were developed with a strong emphasis on high-performance, real-time high-definition (HD) images at up to 30 frames per second (fps) at full resolution for internet video/image sharing and high quality VGA resolution for applications requiring video conferencing.
"HD capable imagers are fundamentally changing the way consumers interact with their computers, making webcams a 'must have' feature in today's notebooks and personal computers for high definition multimedia usage," said Dojun Rhee, vice president, System LSI marketing, Samsung Electronics. "With an industry attachment rate of over 70 percent, we are fully committed to supporting this market segment with our advanced CMOS image sensors to provide consumers with quality images for video conferencing and sharp HD images."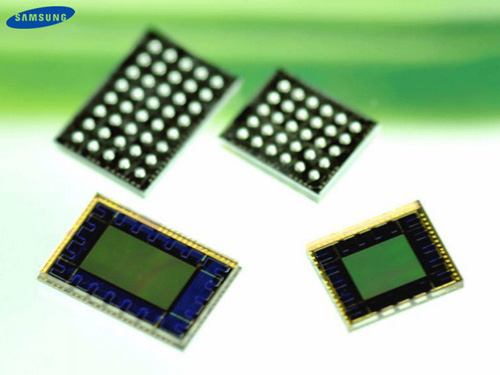 Low-light sensitivity during real-time video capture has also challenged image sensor designers. Using Samsung's enhanced 1.75um pixel technology, new imagers have significantly improved sensitivity and reaches 70Lux of YSNR10. This is critical when the only illumination on the scene might be from the computer screen itself.
As LCD panel makers develop ever thinner panels, the space requirements for embedded camera imagers in notebook computers is shrinking dramatically. Samsung's new S5K5B3 image sensor supports camera modules with full 1080p HD at 30fps capability in a z-height less than 4.5mm. Samsung's new S5K6A1 image sensor has been designed for camera modules with 720p HD at 30fps capability in a z-height less than 3.5mm.
Samsung new S5K5B3 and S5K6A1 imager sensors support multiple platforms architectures and controllers with both parallel and MIPI interfaces. Using an embedded solid state auto focus enhanced depth of field (EDoF) function, the S5K5B3 imager is also designed to allow bar codes and business card reading without needing mechanical autofocus support, which is more costly and a larger module form factor.
According to market research firm, TSR (Techno System Research), the notebook and PC camera market is expected to reach 150 million units in 2010 and grow at a compound annual growth rate of 12 percent to reach 200 million units by 2013.
In accordance with the initial launch of the two high resolution imagers for computing and mobile applications, Samsung will continue to expand its product line up of image sensors supporting HD video capabilities and ever compact form factor requirements to secure market leadership in this growing market segment.
Samples for both of these CMOS image sensors are currently available with mass production scheduled for the second quarter 2010.
Source: Samsung