Sony today announced the VAIO NW-series, a new line of notebook PC designed for easy computing and entertainment at home or on the move. "Quick Web Access" without a full PC boot‑up and one cable connection to an HDTV via HDMI™ are amongst its various easy features. Exquisitely styled, this notebook computer discreetly and naturally blends into the everyday setting harmoniously complimenting your lifestyle.
Equally important to its design in relation to our surroundings is its eco-friendliness. It meets the latest industry energy efficiency standard, ENERGY STAR® 5.0, and its construction is carefully thought through to keep the amount of waste low by using both recycled and recyclable material in the body and packaging. The VAIO NW11-series has an impressive storage capacity of up to 500GB, making it ideal for multimedia, and has 4GB memory, allowing rapid file access and easy multi-tasking. Its 15.5" true 16:9 widescreen is stunning with Sony's X-black LCD, which delivers vibrant colours and crystal sharp details.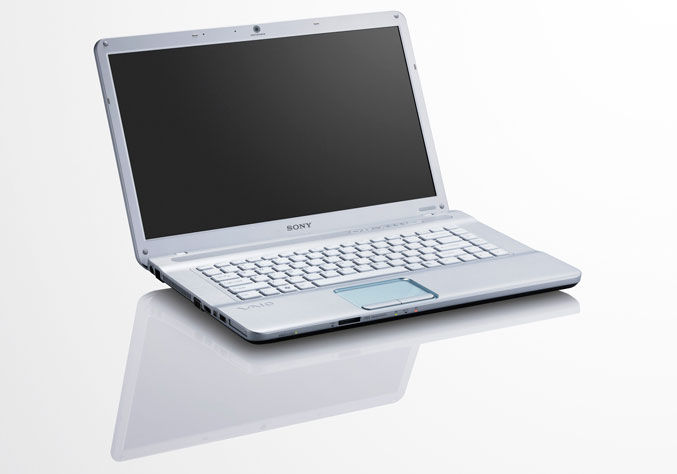 Harmonious Design and Functions
When you open the VAIO NW notebook, you'll notice and appreciate the unique and subtle textured surface applied across the cover and inside. It's as if your fingers run across rippling water or a fine grain of wood. The special visual and tactile experience continues with the touchpad. Its translucency and fine dimples on the surface are aesthetically appealing but also practical as it reduces friction and makes it easier to keep the touchpad clean. Start typing and you'll find it comfortable thanks to the well-spaced and responsive keys and the ergonomic form and balance between the palm rest and the keyboard.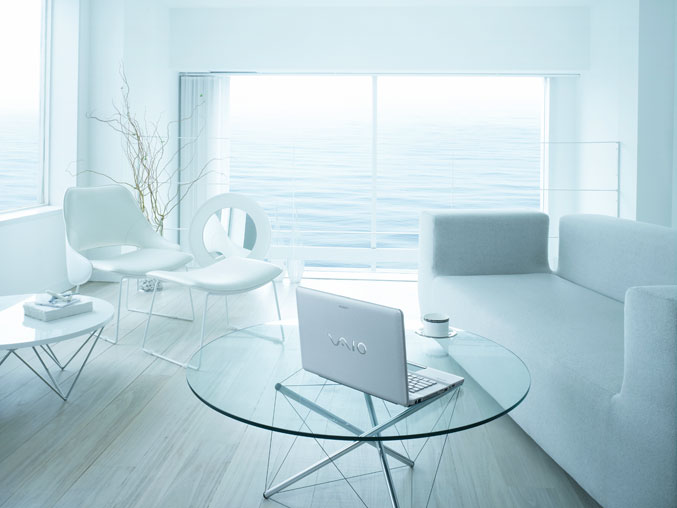 Above the keyboard, there is a set of handy functions. One of them is the "WEB" button for quick access to the bespoke super-fast Internet browser. At a touch of this button, you can get online in seconds without having to fully boot up the PC. And it's not only the access but also the web surfing experience that's speedy when using this dedicated web function and browser. Another one-touch button is the "DISPLAY OFF" button. It instantly turns off the screen, conserving energy, particularly when all you want to do is listen to music on your VAIO.
The contours of the VAIO NW are soft and the footprint is smaller compared to other models with the same screen size, making this notebook computer compact and easy to carry. Initially available in two colours, silver and brown, the tone is gentle and harmonious with the home environment. More colours such as white will become available in fall.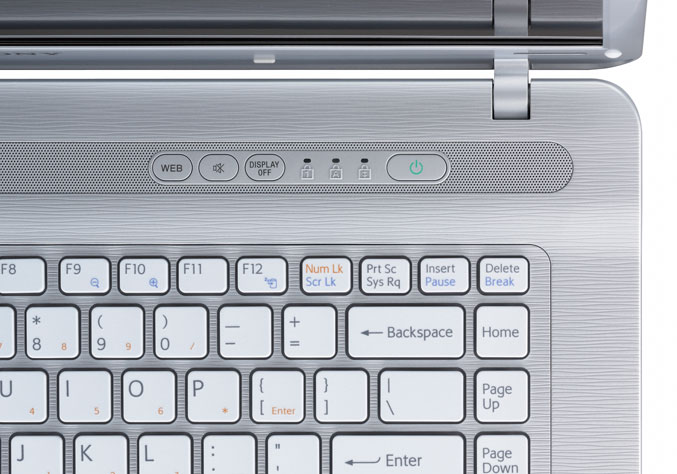 Kind to the Environment
The one-touch "DISPLAY OFF" button and compliancy to the stringent ENERGY STAR 5.0 standard are the most notable aspects of the VAIO NW-series notebooks' environmental credentials. But in fact there's more to the NW's green features: recycled plastics are used in some parts of the body, packaging has been redesigned to be 25 percent less volume compared to the carton of a 2008 15.4" model and the packaging itself is comprised of 98 percent recycled content. For a full list of VAIO NW-series' environmental information, please go to the bottom of this press release.
HD Entertainment with Ease
There's more peace of mind that the VAIO NW notebook offers. When you want to watch or share content on a large HDTV screen, it has an HDMI™ output so that you can easily connect to the TV with a single cable that delivers both video and audio signals. This feature makes your life easier and all the more fun particularly when enjoying HD content, whether it's your HD home videos, HD photo slideshows or watching Blu-ray Disc™ movies (model VGN-NW11Z).
The VAIO NW also comes with intuitive entertainment software applications. Offerings include Picture Motion Browser – a fully featured organizer to manage photos and videos, VAIO Movie Story – a fun tool to produce your own high-quality home movies, and VAIO Music Box – an automated way to enjoy music based on your mood.
The 15.5" Real widescreen with 16:9 aspect ratio means that two web pages or documents can be viewed side-by-side and that movies can be watched in their original format without side bars. Sony's X-black LCD technology impresses viewers with sharp contrast and bright pictures. Transferring data, such as photos and music, is made convenient with a multitude of connectivity options and their easily accessible positions. The NW11-series include three USB ports, slots for SD Card, Memory Stick™ and Express Card, iLINK port, Wireless LAN, Bluetooth®, etc. The VGN-NW11Z features a Blu-ray Disc Combo Drive with the latest ATI Mobility Radeon™ HD 4570 graphics card.
The VAIO NW range will be available in the UK, France, Germany, Austria, Italy, Switzerland, Spain, Portugal, Greece and Russia from this month
Source: Sony