Toshiba Corporation , reinforcing its "dynabook SS RX2 series" of notebook PCs offering light weight, slim lines, and long-lasting battery operation, today announced the introduction of the top-of-the-range "dynabook SS RX2/WAJ," world's first PC integrating 512GB SSD (Solid State Drive). The new model is available in two versions from today at Toshiba's on-line shop for the Japanese market.
The new, Toshiba-developed 512GB SSD employs a 2-bit-per-cell multi-level NAND flash memory to realize, the world's largest capacity SSD, with four times the density of SSD integrated into currently available products. Furthermore, a new controller that realizes high-speed parallel processing with the multi-level NAND flash memory boosts data access speeds by approximately 230%(3) for read (max. 230MB per sec) and 450%(3) for write (max.180MB per sec), compared with SSD integrated into current PCs. It also boosts data access speed by approx. 300% for read and 250%(3) for write, compared to a hard disk drive (HDD). SSDs are free of mechanical structures such as a rotating disc, and ideal for integration into mobile notebook PCs, making them more resistant to vibration and shock.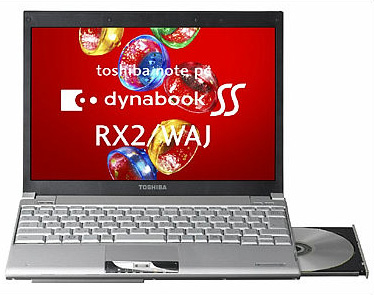 The dynabook SS RX2 is a mobile notebook PC created to the design concept of "true mobility". Its light (approx.1,095g), thin (19.5mm to 25.5mm) design integrates capabilities essential for mobile notebook PCs, including long-time battery operation (12 hours)(5) and a ruggedness that sailed through tests(6) by an independent certification organization. Integration of an SSD reinforces the hallmark performance excellence of the RX2, making the notebook perfect for use on the go. The RX2 also achieves an energy-saving design that cuts power consumption by adopting an ultra-low voltage CPU, a transreflective LCD that uses natural sunlight to make screen images more visible even without switching on the backlight, not to mention the power-efficient SSD.
Source: Toshiba