NVIDIA and Acer reshaped the PC landscape today by setting a new standard for small PCs with the introduction of the world's first NVIDIA® ION™ -based PC, the Acer AspireRevo.
No larger than a typical hardcover book, the AspireRevo is a fully capable desktop with advanced graphics and impressive multimedia features. Equipped with NVIDIA ION graphics, the system can handle a wide variety of computing needs including high definition video, gaming, sharing digital photos, surfing the web, and other tasks consumers expect from full-size systems.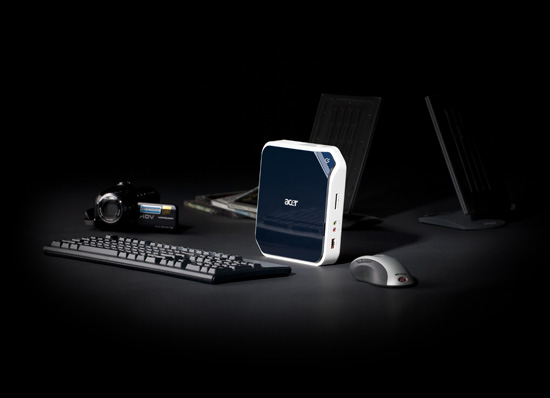 The AspireRevo represents a sharp break from 20 years of big, power hungry, and expensive PCs by delivering a full PC experience in a small, energy efficient, and affordable system. NVIDIA ION graphics make this possible with performance that is 5-10 times faster than traditional PCs with integrated graphics.
"The AspireRevo is small and quiet enough to go anywhere, yet big enough to handle all the needs of your digital lifestyle," said Gianpiero Morbello, corporate vice president of marketing for Acer. "It's perfectly suited for the living room, because NVIDIA ION provides a brilliant graphics experience with digital photos, watching video, and playing family-friendly games."

"The Acer AspireRevo with our new NVIDIA ION GPU is so small and powerful it's unbelievable," said Dan Vivoli, senior vice president of marketing at NVIDIA. "Watch Blu-ray movies1 and HD movie trailers, or clean up jerky, dim cell phone videos for internet streaming. This is the perfect PC for today's consumers."
The NVIDIA ION graphics processor in the AspireRevo supports:
Windows Vista Home Premium
Outstanding 1080p HD video with true-fidelity 7.1 audio
Popular games including Spore, Call of Duty 4, and Sim City 5
DirectX 10 graphics with advanced digital display connectivity
Accelerated video enhancement and transcoding using NVIDIA® CUDA™ technology
Source: Nvidia