NVIDIA Corp., today announced NVIDIA® Optimus™ technology, a breakthrough for notebook PCs that chooses the best graphics processor for running a given application and automatically routes the workload to either an NVIDIA discrete GPU or Intel integrated graphics – delivering great performance while also providing great battery life.
"Consumers no longer have to choose whether they want great graphics performance or sustained battery life," said Rene Haas, general manager of notebook products at NVIDIA. "NVIDIA Optimus gives them both – great performance, great battery life and it simply works."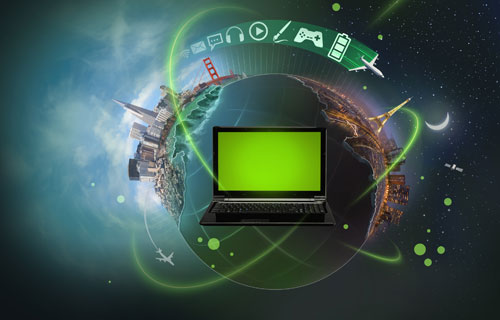 Just as a Hybrid car chooses between the gas-powered and electric car engine on-the-fly and uses the most appropriate engine, NVIDIA Optimus technology does the same thing for graphics processors. NVIDIA Optimus Technology instantly directs the workload through the most efficient processor for the job, extending battery life by up to 2 timesi compared to similarly configured systems equipped with discrete graphics processors (GPUs). When playing 3D games, running videos, or using GPU compute applications the high-performance NVIDIA discrete GPU is used. When using basic applications, like web surfing or email, the integrated graphics processor is used. The result is long lasting battery life without sacrificing great graphics performance.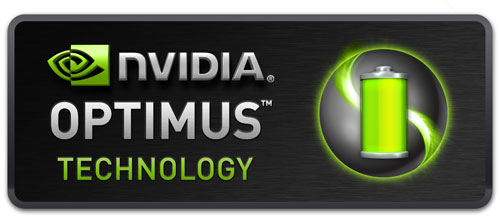 "The genius of NVIDIA Optimus is in its simplicity," said Dr. Jon Peddie, President of Jon Peddie Research, a pioneer of the graphics industry and a leading analyst. "One can surf the web and get great battery life and when one needs the extra horsepower for applications like Adobe Flash 10.1, Optimus automatically switches to the more powerful NVIDIA GPU."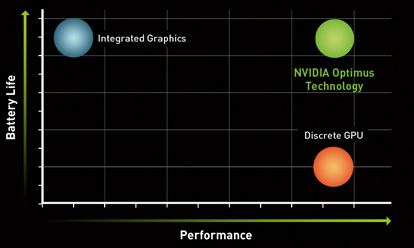 Notebooks with NVIDIA Optimus technology will be available shortly, starting with the Asus UL50Vf, N61Jv, N71Jv, N82Jv, and U30Jc notebooks. For more information on NVIDIA Optimus technology visit the NVIDIA Website at http://www.nvidia.com/object/optimus_technology.html.
Source: NVIDIA