Packard Bell, one of the leading technology brands in Europe, introduces today the dot, the first 8'9-inch netbook specially designed for consumers. It is the latest example of how Packard Bell excels at using design to make cutting edge technology user-friendly with a look and feel that appeals to mainstream consumers.
· ELEGANT BLACK GLOSSY COVER
· DELICIOUSLY RED DESIGN DETAILS
· IDEAL TRAVEL COMPANION
· QUICK AND EASY INTERNET ACESS
Consumers have embraced notebook computers in droves. But there remain circumstances where a full-size notebook is too cumbersome or too visible to be practical, and a smart phone is too small. This is why Packard Bell designed the dot.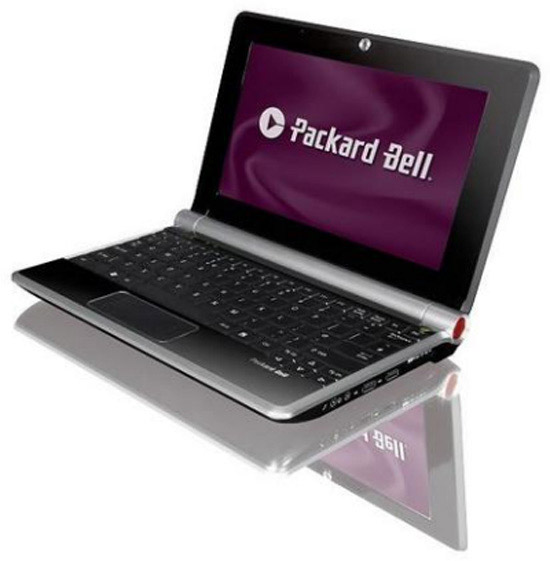 "We've been watching netbooks ever since they first appeared. But we've always considered them too austere and too business oriented for consumers," says Emmanuel Fromont, Sales &Marketing Vice President, Packard Bell. "So we told our designers and engineers to rethink the netbook, to look at it through the eyes of a family, not a company. The result is the dot."
Perfect companion on the go
A notebook doesn't sit discreetly on a café table, but the dot does. Its small size makes it perfect for consuming content on the go. A notebook doesn't slide easily into a handbag, but the dot does. A parent would think twice about entrusting their child with the family notebook for a school trip, but the dot would be the perfect companion. The Packard Bell netbook is designed for situations like these. If the notebook is the main family car, then the dot is a scooter. It is the ideal additional PC/internet access point for the whole family everywhere.
Packard Bell introduces netbook for the masses.

More comfortable than a smartphone
Designed to be a discreet and practical companion, the dot has a slim case that fits neatly into a shoulder bag, while the 8.9-inch 1024×600-resolution display that is easy going on the eyes. It's hard to type messenger conversations on a smart phone, but not on the dot. The keyboard is large enough for children and adults. And the full Windows XP operating system provides users with the features and interface they know so well.

Multimedia inspiration
The Intel® Atom processor and 1GB of RAM make performance zippy and battery life long. There's even room for an extra 6-cell battery for heavy-duty use. The 160GB hard drive, 3 USB ports and 5-in-1 card reader make it perfect for off-loading a digital camera, while the display is perfect for reviewing and sharing photos with others.Finally, the dot is a born communicator, thanks to its built-in Wi-Fi (b/g), the optional 3G module and integrated webcam.

Availability & Pricing
The dot will be available in European retail outlets from November, starting at an estimated street price of €399. Availability varies according to country.

Here' the specification

Operating System: Windows(R) XP
Processor: Intel(R) Atom
Main Memory: 1Gb RAM
Display: 8.9-inch screen (1024 × 600 pixels)
Storage: 160 GB HDD"
Network Interface: 802.11 b/g
I/O Ports: 3 x USB 2.0 ports
Card Reader: 5-in-1 card reader
Webcam: Integrated
Options:

6-Cell Battery and 3G module

Availability: From November in Europe
Pricing: Starting at an estimated street price of €399
About Packard Bell
Packard Bell pioneered the use of the PC in the home, taking an unfriendly but useful office tool and turning it into a friendly, indispensable feature of today's modern home. Stylish design, affordability and customer-oriented features are the hallmarks of all Packard Bell products-a unique combination that no other brand in the European market offers today. In 2008, Packard Bell was acquired by Taiwan-based Acer Inc., and the combined entities now comprise the third largest PC company in the world.
For more information, please visit : www.packardbell.com