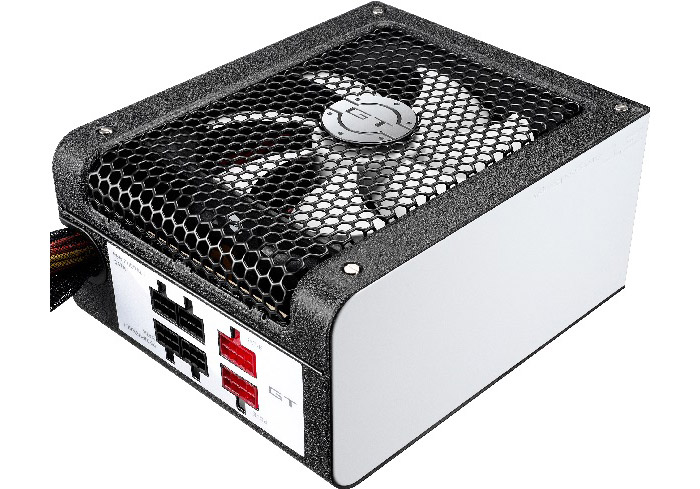 Aerocool has officially unveiled a new family of power supply units (PSU) that will be known as GT, which stands for "Gran Turismo" – a moniker for high-performance luxurious cars. Not surprisingly the Aerocool GT tries to take the same place in the PSU world – and it does deliver for its price.
The new PSU line consists of eight different models that range in power from 500 watts to 1050 watts and offer high efficiency and stability thanks to two VRM modules used which employ one choke only. Therefore the two 12-volt lines of the new PSUs deviate by only 3 per cent at most and ensure great and stable voltages for your system. Other common specs include a 139 mm cooling fan that has been integrated inside the PSU and thanks to the featured intelligent fan controller the cooling fan can operate very silently; another common feature is support for the ATX 12V 2.3 standard. In addition Aerocool promises 120 000 hours of MTBF for its new GT line so rest assured when using it in your PC. As expected the GT line has full support for Over Current (OCP), Over Voltage (OVP), Over Power (OPP), Over Temperature (OTP), Under Voltage (UVP), Short Circuit (SCP) and Surge protections.
The GT line may seem highly consistent but this is not the case. The PSUs are divided in three groups – the GT-500 and GT-700 models feature attached cables and red and black finish as well as 80 PLUS Bronze specification. The second group consists of the GT-500S, GT-700S and GT-1050S models with smart modular cables, 80 PLUS Bronze certification and red and black finish. Finally the GT-500SG, GT-700SG and GT-1050SG come with smart modular cables, 80 PLUS Gold certification as well as white and black colors.
The new GT PSU line is available now and pricing is as follows: GT 500W (EUR 58), GT 700W (EUR 75.75), GT-S 500W (EUR 64.65), GT-S 700W (EUR 80.69), GT-S 1050W (EUR 130.50), GT-SG 500W (EUR 100), GT-SG 700W (EUR 121.50), GT-SG 1050W (EUR 160.69).
Source: Aerocool