In the past few weeks AMD was in the news mainly with its financial losses but things may turn for the better starting now. The US company has unveiled its first processors with support for DDR4 memory but desktop users are not lucky today – the new AMD chips target the embedded sector where they will power industrial and commercial applications as well as networking, medical and point-of-sale equipment.
The new chips are combined in the new R-series line. They use AMD's Excavator cores that you can see in the company's Carrizo platform but there's an extra level of validation and support. That's the reason why the processors use ARM TrustZone but there's more – they also come with high performance integrated graphics and HSA 1.0 features. The new R line now includes five processors that carry the Merlin Falcon code name and apart from DDR4 they also support the good old DDR3 memory. Three chips include AMD 3rd generation GCN graphics inside, while the two remaining modules feature just computational cores. More chips will arrive in Q1 2015 as part of the iTemp line that will feature a wider validated temperature operating window from -40°C to +105°C. The chips will not offer more or new features compared to the current Merlin Falcon chips but they need additional validation so they won't be available now.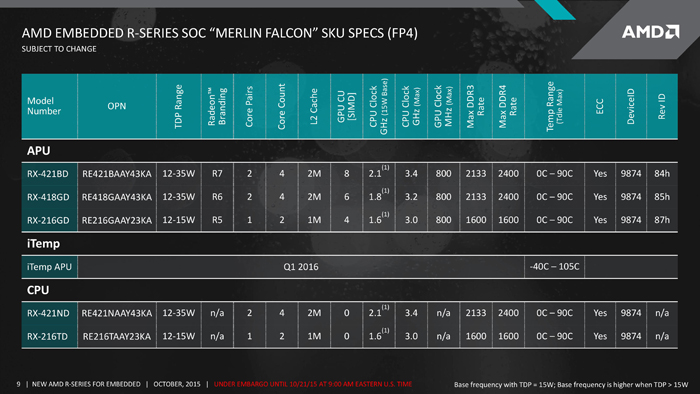 The new AMD R line also features an innovative SoC design. The chipset that powers the processors is manufactured on the same tech process and is included in the same die. This will lead to simpler motherboards for the R processors, easier power management and lower power consumption. This is the reason why the Merlin Falcon processors come with TDP levels of 15-35 watts. The chip graphics core supports up to three displays and there's a fully functional Windows driver with a Linux one coming soon. According to AMD the new chips provide new performance levels – for instance, the high-frequency RX-421BD APU at 15W gives the same performance as the previous generation RX-427BB (Bald Eagle, Kaveri) at 35W.
AMD has not disclosed how much the new chips cost.
Source: AMD