AMD has surprisingly announced a new lineup of professional video cards called Radeon Pro WX. The announcement has taken place during the Capsaicin event of the Siggraph 2016 conference. The new video cards are based on the latest Polaris architecture and have arrived to provide users with excellent performance at an affordable price.
The Radeon Pro WX7100 is the first card in the new lineup. The card is based on the Polaris 10 GPU and packs 2048 stream processors, 8 GB of GDDR5 memory at 7000 MHz and a 256-bit memory bus. The card provides 5 TFLOPs of computing performance and needs 150W of power. According to AMD the Radeon Pro WX7100 offers performance levels offered by cards that cost USD 3000. Yet the price of the WX7100 will be just USD 999.
The Radeon Pro WX5100 is the next card in the line. This one has 1792 stream processors and 8 GB of GDDR5 memory at 7 GHz and a 256-bit memory bus. The card needs just 75W of power and does not come with an additional power connector. Yet the performance level is great – the WX5100 offers 4 TFLOPs of computing performance!
The Radeon Pro WX4100 is the last member of the WX graphics card line. This one has 1024 stream processors, a Polaris 11 GPU and 4 GB of GDDR5 memory that works in tandem with a 128-bit memory bus. The performance here is 2 TFLOPs. All these three new video cards can output 5K images on four displays at the same time. The new WX video cards will be in stores in October and will come with a 10-year warranty period!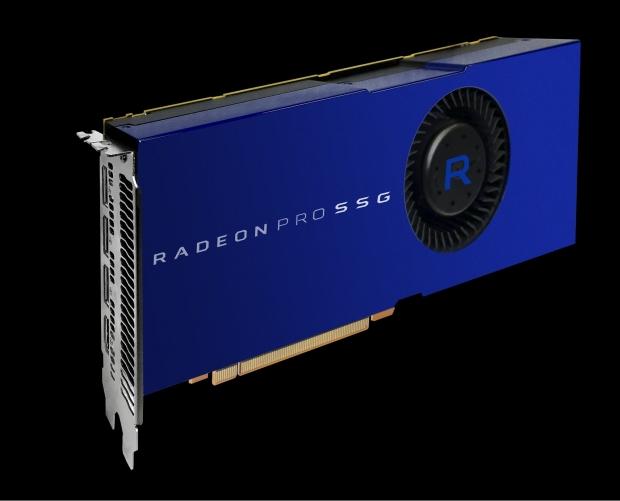 Along with these three AMD has announced a new professional-class Radeon Pro SSG video card. The main peculiarity of this one is the presence of an M.2 port that allows the video card to enjoy the services of a SSD with a capacity of up to 2 TB. Thanks to this feature AMD promises up to six times better performance when working with very large data sets and images.
The Radeon Pro SSG will be available in year 2017. The expected price of the new card is USD 9999.
Source: AMD