Harnessing the world's most powerful graphics processor, AMD today introduced the ATI Radeon™ HD 5870 Eyefinity 6 Edition graphics card. Equipped with 2GB of GDDR5 memory, the ATI Radeon HD 5870 Eyefinity 6 is the first graphics card capable of rendering in excess of 1 billion pixels per second in today's titles, unleashing PC game environments of unprecedented size and resolution. Enthusiast gamers now have access to a seamless, stunning perspective across six displays, enabling up to 12 times more resolution than 1080p HD.2,3
"The ATI Radeon HD 5870 Eyefinity 6 Edition graphics card opens the door to a new era in personal computing," said Matt Skynner, vice president and general manager, AMD Graphics Division. "With the ATI Radeon HD 5870 Eyefinity 6 Edition, PC users get the ultimate panoramic computing experience in one powerful card. By bridging the innovation in ATI Eyefinity technology with broad ecosystem support, AMD is revolutionizing the PC visual experience."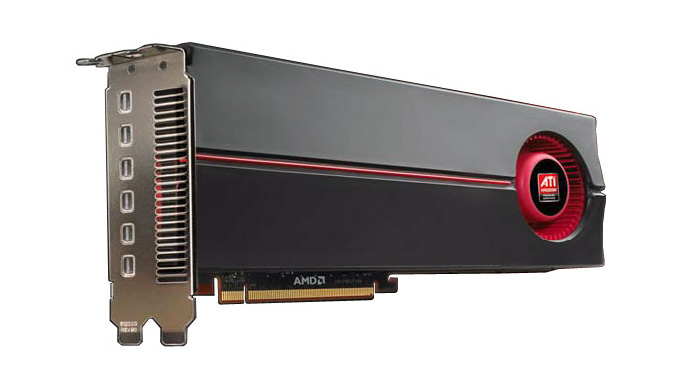 Before today, PC enthusiasts needed two or even three graphics cards to simultaneously drive six independent computer monitors at and beyond 1080p HD resolutions. The ATI Radeon HD 5870 Eyefinity 6 Edition delivers that capability in one graphics card, reducing the cost of ownership for a six-screen display while streamlining the ease with which gamers and productivity experts can set up hundreds of possible multi-monitor configurations.
Users can also benefit from a well-developed ecosystem around ATI Eyefinity technology, including broad support by the game development community. Updates in the latest ATI Catalyst™ graphics driver software continue to improve the ATI Eyefinity experience by periodically enabling new features, while a partner program exists to help assist users in identifying ATI Eyefinity-validated components to use in their set-ups.
Features of the new ATI Radeon HD 5870 Eyefinity 6 Edition include:
2GB of GDDR5 memory to enable high frame rates and image quality settings in the latest DirectX® 11 games in three- and six-display gaming setups.
Full display flexibility right out of the box, with the inclusion of five adaptors4: two mini DisplayPort to DisplayPort adapters, two passive mini DisplayPort to DVI dongles, and one passive mini DisplayPort to HDMI dongle.
Support for 3×2 display configuration with new configurations supported in upcoming ATI Catalyst™ software updates.
Broad support for software developers worldwide including Bioware, Codemasters, EA, and Turbine who have adopted ATI Eyefinity multi-display technology in the latest DirectX® 11 games such as DiRT™ 2 from Codemasters and Battlefield Bad Company 2 from EA DICE.
The ability to use ATI CrossFireX™ multi-GPU technology in conjunction with ATI Eyefinity multi-display capabilities as released in ATI Catalyst™ graphics drivers version 10.2, enabling increased gaming performance when driving high-resolution ATI Eyefinity display groups.
ATI Eyefinity technology enhancements were made available in ATI Catalyst™ graphics update version 10.3, including bezel compensation, which helps simulate a more integrated display surface by adjusting for display bezels.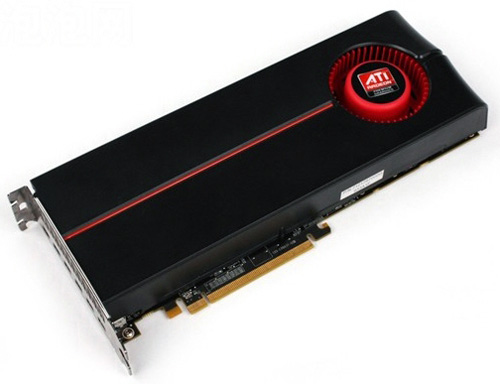 ATI Radeon HD 5870 Eyefinity 6 Edition Graphics Feature Summary
2.15 billion 40nm transistors
TeraScale 2 Unified Processing Architecture

1600 Stream Processing Units
80 Texture Units
128 Z/Stencil ROP Units
32 Color ROP Units

GDDR5 interface with 153.6 GB/sec of memory bandwidth
PCI Express 2.1 x16 bus interface
DirectX® 11 support 

Shader Model 5.0
DirectCompute 11
Programmable hardware tessellation unit
Accelerated multi-threading
HDR texture compression
Order-independent transparency

OpenGL 3.2 support
Image quality enhancement technology

Up to 24x multi-sample and super-sample anti-aliasing modes
Adaptive anti-aliasing
16x angle independent anisotropic texture filtering
128-bit floating point HDR rendering

ATI Eyefinity multi-display technology1

Six independent display controllers

Drive up to six displays simultaneously with independent resolutions, refresh rates, color controls, and video overlays

Display grouping1

Combine multiple displays to behave like a single large display2

Bezel Compensation3

ATI Stream acceleration technology

OpenCL 1.0 compliant4
DirectCompute 11
Double precision floating point processing support
Accelerated video encoding, transcoding, and upscaling5,6

Native support for common video encoding instructions

ATI CrossFireX™ multi-GPU technology7

Dual, triple, and quad GPU scaling
Dual-channel bridge interconnect

ATI Avivo HD Video & Display technology8

UVD 2 dedicated video playback accelerator
Advanced post-processing and scaling9
Dynamic contrast enhancement and color correction
Brighter whites processing (blue stretch)
Independent video gamma control
Dynamic video range control
Support for H.264, VC-1, MPEG-2 and Adobe Flash10
Dual-stream 1080p playback support11,12
DXVA 1.0 & 2.0 support
Integrated dual-link DVI output with HDCP13

Max resolution: 2560×160014

Integrated DisplayPort output

Max resolution: 2560×160014

Integrated HDMI 1.3 output with Deep Color, xvYCC wide gamut support, and high bit-rate audio

Max resolution: 1920×120014

Integrated VGA output

Max resolution: 2048×153614

3D stereoscopic display/glasses support15
Integrated HD audio controller

Output protected high bit rate 7.1 channel surround sound over HDMI with no additional cables required
Supports AC-3, AAC, Dolby TrueHD and DTS Master Audio formats

ATI PowerPlay™ power management technology8

Dynamic power management with low power idle state
Ultra-low power state support for multi-GPU configurations

Certified drivers for Windows 7, Windows Vista, and Windows XP
Speeds & Feeds
Engine clock speed: 850 MHz
Processing power (single precision): 2.72 TeraFLOPS
Processing power (double precision): 544 GigaFLOPS
Polygon throughput: 850M polygons/sec
Data fetch rate (32-bit): 272 billion fetches/sec
Texel fill rate (bilinear filtered): 68 Gigatexels/sec
Pixel fill rate: 27.2 Gigapixels/sec
Anti-aliased pixel fill rate: 108.8 Gigasamples/sec
Memory clock speed: 1.2 GHz
Memory data rate: 4.8 Gbps
Memory bandwidth: 153.6 GB/sec
Maximum board power: 188 Watts
Idle board power: 27 Watts
Source: AMD