Biostar, a well-known Taiwanese manufacturer of motherboards and other computer components, has shown a brand new motherboard based on Intel's upcoming Z77 chipset, designed for the future Ivy Bridge processors which are expected in April 2012.
The board, called TZ77XE4, features a LGA 1155 socket and promises good quality and rich options at a lower price. Featuring 4 DIMM slots for DDR3 RAM memory, the board also comes with 8 SATA ports, 4 of which support SATA 3.0 interface while the remaining 4 ports support SATA 2.0 devices. There also are three PCI-E 16x slots although only one of them supports 16x PCI-E speed. Also included are one PCI-E 1x slot and two regular PCI slots.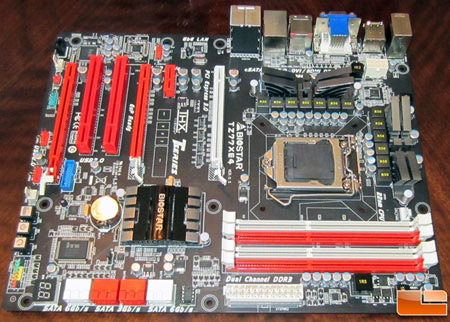 The board gets power via a 12+1 power scheme and features chipset cooling which is just a regular passive heatsink. There are also keys that allow the user to turn the board on or off, clear the BIOS or see what the board says through a number code on a small display. Integrated peripherals include four ports – DVI, D-Sub, HDMI and DisplayPort, one PS/2 port, one eSATA, one LAN RJ-45 port, 4 USB 2.0 ports and two USB 3.0 ports. Also included is a 5.1 on-board audio solution.
The Biostar TZ77XE4 motherboard is expected to hit stores once Intel Ivy Bridge processors become commercially available in April 2012.
Source: IXBT