Cooltek has expanded its Gaming Tower line of PC chassis with the addition of the GT-05 mini-tower case. The new company product targets people who want to have a cool looking PC case and lack desktop space… or simply want to have more free space around them. As you can see the main feature of the GT-05 is small size but unfortunately there's a price to pay as with everything else – the case only supports micro-ATX and mini-ITX motherboards.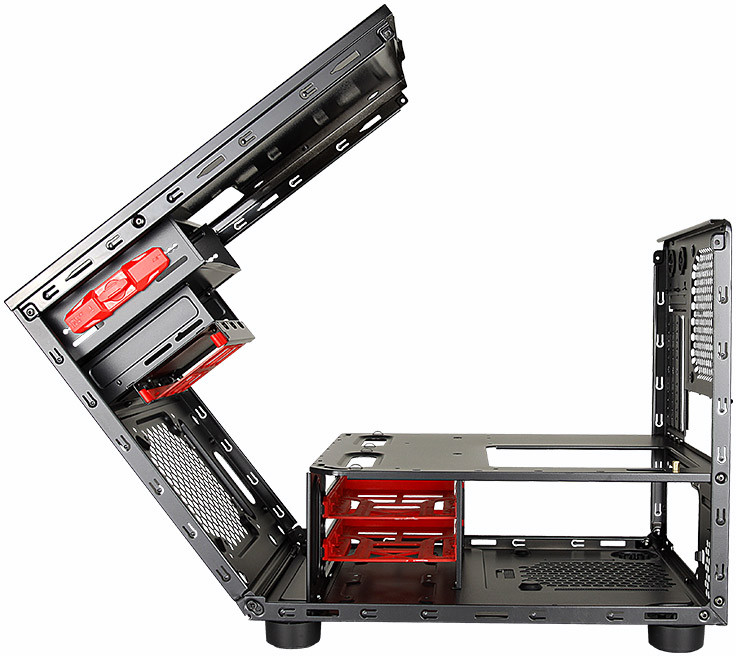 Everything else is good looking, though. The chassis comes mostly is stylish black and there's a colored plastic line that goes through it. The colors of the line are four – black, gray, green and orange – and all of them come with the chassis so you will be able to customize it every once in a while. Despite the small size of the GT-05, the case is very easy to work with – it can be literally unfolded so you will be able to install your hardware with no fuss at all. Speaking of this the GT-05 provides one 5.25-inch external bay, one 3.5-inch external bay, two 3.5-inch internal bays, one 2.5-inch internal bay and enough space to house one rear 120 mm cooling fan, one 120/140 mm optional front fan and one 120 mm optional top fan. The chassis measures 354 x 267 x 405 mm (H x W x L) and is compatible with VGA cards up to 340 mm in length and CPU coolers that are up to 165 mm high. There are two zones in the GT-05 – the so-called top zone is the place where users install the motherboard, the CPU, the CPU cooler and the VGA card, while the lower zone is where the PSU and two 3.5-inch drives can be installed.
The new Cooltek GT-05 mini-tower PC case will be commercially available by the end of April 2015. The chassis will sell for EUR 49.99 with VAT included.
Source: Cooltek