The web site Techbang.com has published the first test results of the upcoming Intel Core i7-6700K processor, which will be Intel's flagship desktop CPU for the future Skylake generation. As you know these chips will appear on August 5 and will power an entirely new platform that will include the new LGA 1151 socket and DDR4 memory.
The Core i7-6700K has been tested against one of the fastest CPUs money can buy, namely the Core i7-4790K. Both chips run at a default clock speed of 4.0 GHz but differ in the Turbo speed – the i7-6700K reaches 4.2 GHz in Turbo mode, while the i7-4790K is a bit faster at 4.4 GHz. The Core i7-6700K will compensate this lack of clock speed with a finer 14 nm tech process, a newer architecture, a better integrated GPU and lower power consumption. Here are the benchmark results: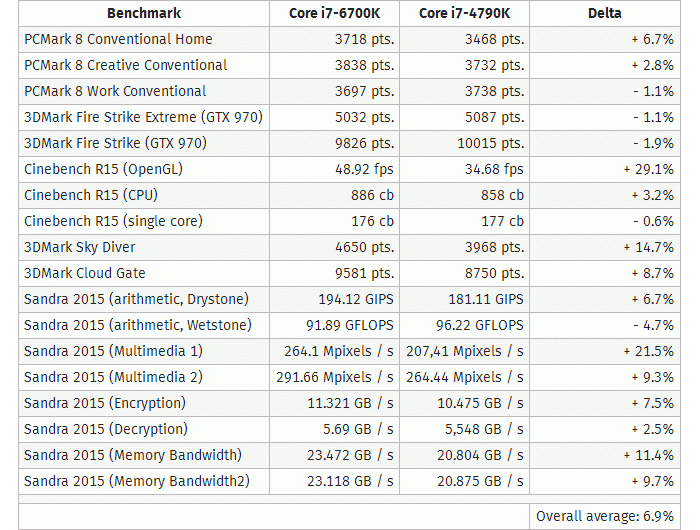 As you can see the overall performance gains are just 6.9 per cent and there are benchmarks where the i7-6700K loses to the older i7-4790K. All in all, however, Skylake will bring DDR4 to the mainstream PC market, which, along with all aforementioned tech advancement, will likely make the new platform worth buying.
Source: Techbang.com