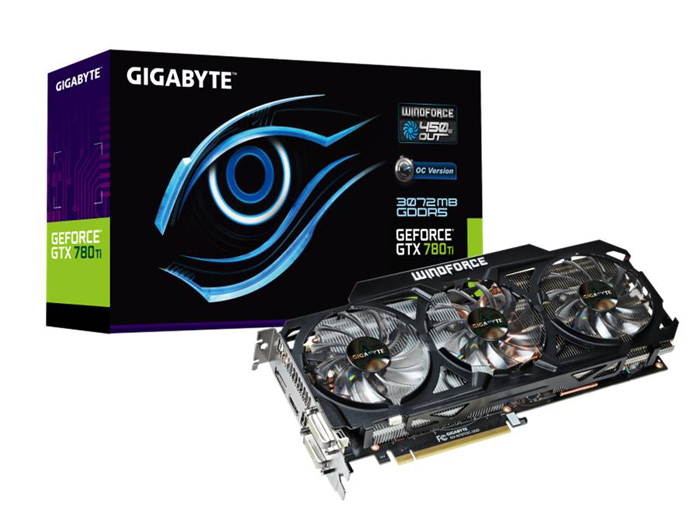 The GHz Edition moniker next to graphics cards has become something of a staple in the past months with more and more cards boasting this performance-bringing sign. Indeed the GPUs of most graphics cards operate at frequencies that do not pass 1 GHz so this mark does bring more performance that usual.
The latest GHz Edition graphics card will likely come out of Gigabyte as the Taiwanese company has shared plans of releasing a GHz version of the GeForce GTX 780 Ti graphics card. The upcoming product will sit above the GTX 780 Ti OC Edition released last month and will come with a new PCB design by Gigabyte that comes with a stronger VRM and the same 450W WindForce cooler seen in the GTX 780 GHz Edition.
The Gigabyte GTX 780 Ti GHz Edition video card will arrive with a 10+2 VRM, two 8-pin power connectors, a GPU that runs at 1085 MHz (nominal clock speed) and 1150 MHz in Turbo mode and 7 GHz of GDDR5 memory. As expected the GTX 780 Ti GHz Edition will make use of the same GPU found in regular GTX 780 cards and this is why it will come with 2880 CUDA cores, 240 TMUs, 48 ROPs and a 384-bit GDDR5 memory bus accessing 3 GB of on-board memory. An aluminum heat sink with five 8-mm copper heat pipes and three 100 mm fans cool the entire 3D monster.
Currently there's no word on the availability or pricing.
Source: Gigabyte