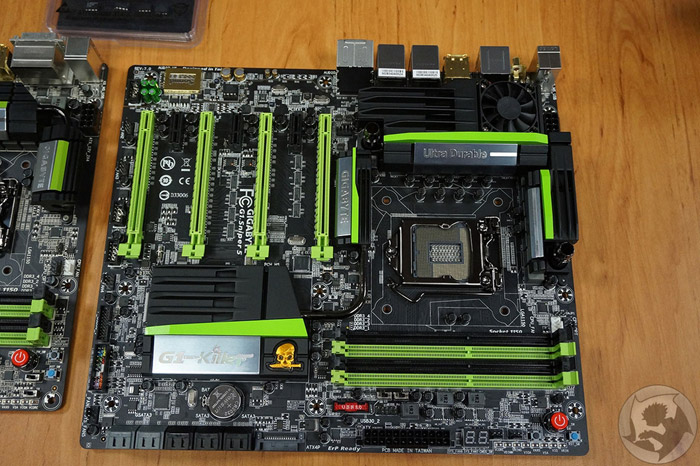 Just a few days after presenting a Z87-based motherboard the Taiwanese Gigabyte has readied two new gamer-oriented Haswell motherboards that belong to the company's G1.Killer line. The boards are the Gigabyte G1.Sniper 5 and G1.Sniper M5 with both of them appearing on the market in early June 2013 – just in time for the launch of Haswell.
The Gigabyte G1.Sniper 5 is based on the Intel Z87 chipset and fully supports all LGA1150 processors. The motherboard makes use of the ATX form factor and comes with a 16-phase power supply system as well as the company's Ultra Durable 5 technology, copper-based PCB as well as ferrite core chokes for prolonged motherboard life. The motherboard also offers four DDR3 DIMM memory slots, four PCI-E 3.0 x16 slots (working configurations x16/NC/x16/NC, x16/NC/x8/x8, x8/x8/x16/NC, x8/x8/x8/x8), ten SATA 3.0 ports, 7.1-channeled audio, Gigabit Ethernet, ten USB 3.0 ports, two HDMI ports, one DisplayPort port and a combined PS/2 port.
The G1.Sniper M5 motherboard is the smaller of the two – it features a microATX form factor, an 8-phase power supply system, four DDR3 memory slots, two PCI-E 3.0 x16 slots (x16/NC or x8/x8), one PCI-E 2.0 slot (x4 electrical) and one PCI-E 2.0 x1. The G1.Sniper M5 also supports six SATA 3.0 ports, one DVI port, one DisplayPort port and two HDMI ports and there are a Gigabit Ethernet adapter, six USB 3.0 ports and built-in audio as well.
The pricing of both motherboards is unknown.
Source: Techpowerup