iBuyPower has presented the Revolt 2 gaming desktop computer, which replaces the Revolt that was released back in year 2013. The new gaming computer improves the overall performance when it comes to games but keeps the same original and defiant spirit of the first Revolt.
iBuyPower has not specified the hardware specs of the new computer, but we imagine gamers can order the computer with a number of Intel Skylake processors, fast NVIDIA graphics cards and of course the latest and hottest DDR4 memory. The Revolt 2 is fully customizable and upgradeable so users should not have any issues in this field whatsoever. iBuyPower has, however, spend a great deal of its efforts on the external looks of the Revolt 2. The computer can house only mini-ITX boards, thus saving tons of space, but at the same time allows the installation of really powerful ATX-sized hardware components. The case of the Revolt 2 has enough space for a 280 mm liquid cooler, two solid state drives, one hard drive and a full-sized ATX power supply unit. In addition to this the Revolt 2 sports the so-called Quick Change SSD system and allows gamers to install two 120 mm cooling radiators, one 120 mm and one 140 mm radiator combo, or one 240 mm or one 280 mm radiator. The main focus in the Revolt 2 has been on the hardware components inside and thus iBuyPower has placed the video card on top of the case so that everyone can see what kind of graphics card you have. The video card sits underneath a see-through window and is highlighted by the iBuyPower Smart Lighting technology, which means the graphics card can be lighted in up to 16.7 million colors.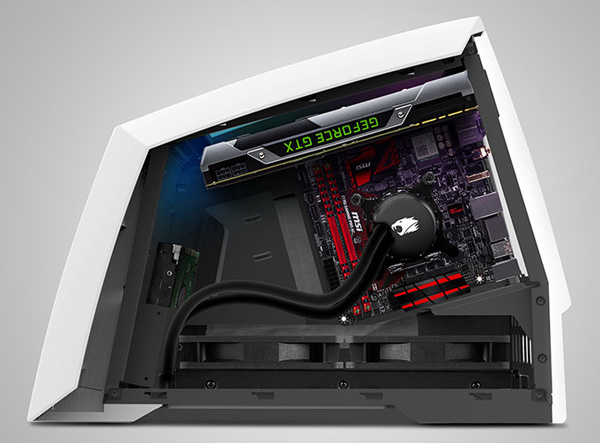 Interested? The iBuyPower Revolt 2 will be available in January 2016 right after CES 2016. There's no word on pricing as of now. In the meantime you can check out the new gaming computer on iBuyPower's web page here.
Source: iBuyPower