Months after taking its desktop processors to a 14 nm production process, Intel has unveiled its first 14 nm Xeon chips. The new processors are based on the Broadwell-EP architecture and there are 26 different models of them. Thanks to the usage of the latest 14 nm production process Intel has managed to pack more cores in dies of the same size while using the same amount of energy.
The CPU line that incorporates these chips is called Xeon E5-2600 v4 and compared to the older 22 nm Haswell-EP processors, the number of cores in the Xeon E5-2600 v4 Broadwell-EP line has been increased from 18 to 22 and the L3 cache has been enlarged from 45 MB to 55 MB. The Broadwell-EP line is also the first to support DDR4-2400 memory, again up from 2133 MHz in the Haswell-EP line. The socket, however, stays the same and this is good news – the Broadwell-EP chips require the same LGA 2011 v3 socket along with the Intel C610 chipset.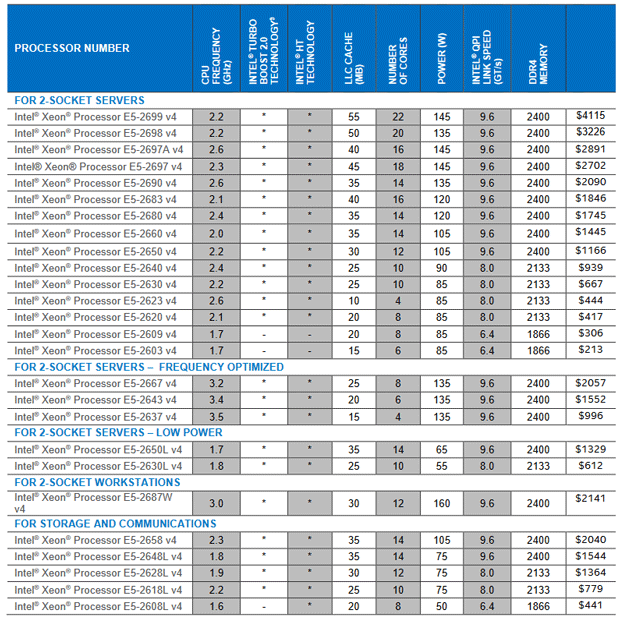 The main reason behind the existence of the new Broadwell-EP line is cloud computing – Intel believes that Broadwell-EP chips are the best choice when it comes to building new generation cloud systems. To meet such needs Intel has provided the Broadwell-EP chips with several new features such as Cache Monitoring and Allocation Technologies, which allow users to manually control the chip caches. This gives users flexibility and allows them to use computational resources when and where needed instead of wasting performance on non-important tasks.
As to pricing the new Broadwell-EP chips start at USD 212 and go all the way up to USD 4115.
Source: Intel