There's more than a week left until the official launch of the new Intel Z77, H77 and B75 chipsets but Intel has been already revealing its 7th series motherboards on its web site.
While Intel motherboards are hardly the preferred choice for most hardware enthusiasts and overclockers, they too sell well and usually find their place in PCs where dependability comes first. Not surprisingly Intel boards have been known for stability, dependability and reliability while featuring all expansion options other board offer.
Revealing its Z77 chipset boards Intel has prepared two new models – the DZ77RE-75K and the DZ77GA-70K, which share pretty much the same features with the major difference being that the DZ77RE-75K will sport Thunderbolt support. Since the Thunderbolt technology is not quite ready yet this model is very likely to be launched later this year.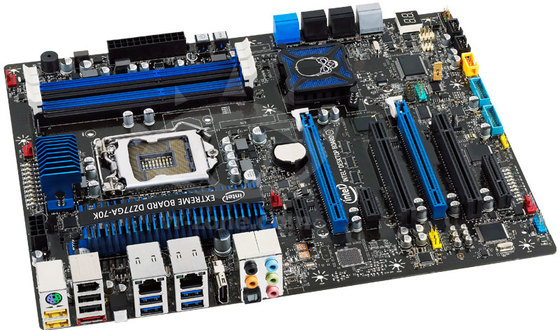 The DZ77GA-70K is the board that steals the show. Coming with support for Ivy Bridge cores and all current Sandy Bridge processors, the DZ77GA-70K arrives in ATX format and supports up to 32 GB of DDR3-1600+ memory in four DIMM slots. In addition to the built-in processor GPU gamers can satisfy their need for power with the two PCI-E 3.0 x16 slots found on the DZ77GA-70K, although the second one runs at only x8 speed. There's also 10-channel Intel HD audio, dual Gigabit (10/100/1000 Mb/s) LAN subsystems using the Intel 82579V Gigabit Ethernet Controller, eight USB 3.0 ports, ten USB 2.0 ports, four SATA3 ports, four SATA2 ports, one eSATA 3.0 port and two IEEE 1394a ports. In addition the board also sports two PCI-E 2.0 x1 connectors and one PCI-E 2.0 x4 connector plus two regular PCI slots.
The new Intel Z77, H77 and B75 boards should be available for purchase later this month.
(pictures courtesy of VR-Zone.com)
Source: Eteknix.com