The world's largest chipmaker unveiled the Intel 910 series of solid-state drives that are compatible with the PCI-E bus infrastructure and are designed to provide extreme performance, endurance and reliability for rigorous data center demands.
Based on Intel multi-level cell NAND flash memory with high endurance technology (HET) and using 25 nm technology the Intel 910 series SSDs will be available in capacities of 400 GB and 800 GB. The SSDs utilize PCI Express 2.0 x8 interface and consume up to 25W while delivering performance significantly higher than that of 10K or 15K hard disk drives. Thanks to Intel HET, firmware and controller, the new drives allow up to 10 full drive writes a day for 5 years, or a 30 times endurance improvement over its standard MLC-based flash products.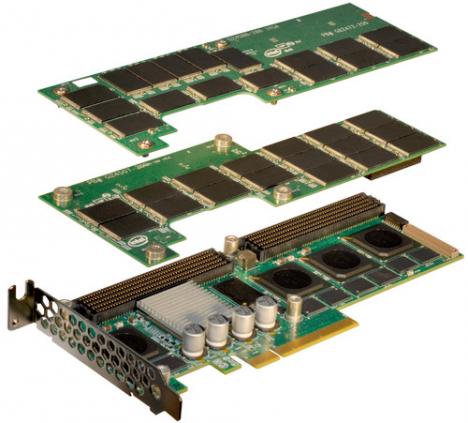 The new Intel 910 series drives are also very fast – the 800 GB model provides up to 2 GB/sec of sustained sequential read speed and 1 GB/sec of sequential write speed. The 400 GB model is a bit slower with up to 1 GB/sec of read speed and 750 MB/sec of write speed respectively. The new drives also offer up to 180 thousand 4K random read input-output operations per second (IOPS) and 75 thousand 4K random write IOPS (up to 90K and 38K for 400GB model).
"The Intel SSD 910 Series is a complete solution that delivers on all fronts: high performance, endurance and reliability, making it ideal for replacing I/O-intensive HDDs. As a leader in SSD technology, data center IT professionals can have confidence in a tier-one, easy-to-install SSD solution backed by Intel quality, reliability and technical support," said Roger Peene, director of data center SSD marketing for the Intel non-volatile memory solutions group.
Easy to install the new SSDs are designed for server upgrades that require no changes to the existing server design. One Intel 910 SSD can replace multiple 15K rpm hard disk drives to not only save on space and power consumption, but also improve sequential performance and storage scalability and reduce latencies.
Market availability for the new Intel 910 series SSDs is expected in mid-2012 with the pricing being 1929 USD for the 400 GB model and 3859 USD for the 800 GB model. The drives also come with 5 years of limited warranty.
Source: X-bit Labs