Nearly a week after we got the first two Skylake chips the first low-power Skylake processors have been detailed on the Internet. Some of these parts will come out in September of this year, while some other chips will arrive in year 2016.
All Skylake-U processors come with two computational cores but cover all Intel brand extensions, including Celeron, Pentium, Core i3, Core i5 and Core i7. The chips come with thermal design power that ranges from 7.5W to 15W, which means you will enjoy low heat output and low power consumption. Each brand, however, has only two SKUs at most at the moment.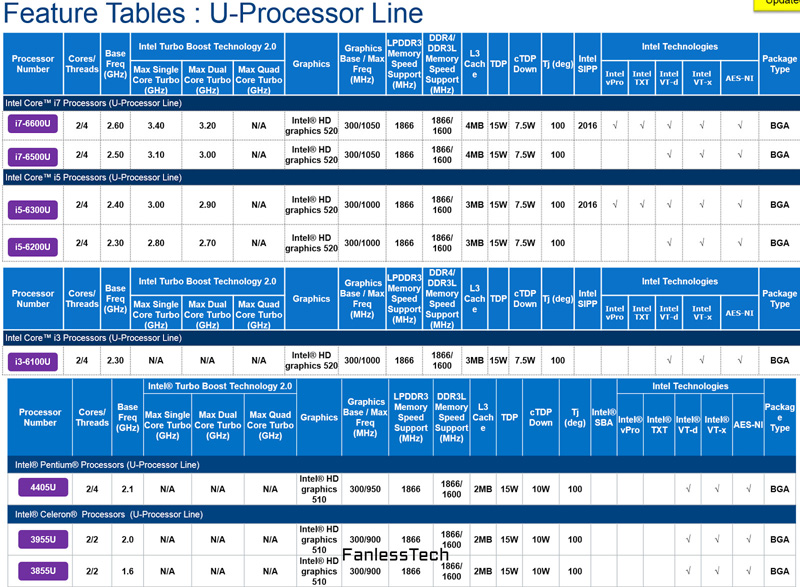 The Skylake-U lineup is led by the Core i7-6600U and Core i7-6500U processors that sport clock speeds between 2.50 GHz and 3.40 GHz (with Turbo). The processors have two cores with support for Hyper-Threading technology, 4 MB of L3 cache, and Intel HD 520 graphics at 300 MHz (1050 MHz Boost). The Core i5 processors come with lower clock speeds, 3 MB of L3 cache, support for Hyper-Threading, and Intel HD 520 graphics at 300 MHz (1000 MHz Boost). The Core i3 chips are almost identical to the Core i5 processors, except that they do not support Turbo Boost. The Pentiums in the line come with even lower clock speeds and have Intel HD 510 graphics at up to 950 MHz and 2 MB of L3 cache but retain Hyper-Threading. Finally we have the Celerons – they are even slower than the Pentium processors, have 2 MB of L3 cache, 300 MHz GPU (up to 900 MHz with Turbo) and lack Hyper-Threading technology.
There's no information how much these chips will cost.
Source: Techpowerup.com