Overclockers just got a new treat this time coming from the Taiwanese Micro-Star International company, which is a well known motherboard maker. Apparently not satisfied by its Military Class motherboards the hardware maker now offers a new breed of motherboards that are "OC Certified".
The first member of the new line is the MSI Z77 MPower motherboard based on the Intel Z77 chipset and sporting a LGA1155 socket. In order to get OC Certified the motheboard must have passed the most rigorous tests possible, operating for 24 hours at least while running Prime95 on a LGA1155 processor working at 4600 MHz – way above any Intel stock speed. But that's not all – another important feature of the test is that the motherboard gets placed in a hot environment with no airflow.]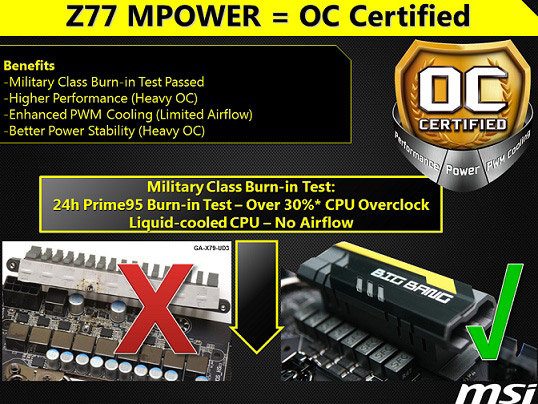 Additionally all OC Certified motherboards feature enhanced PWM cooling as well as better power stability thanks to the usage of high-quality components. The improved PWM cooling also gets tested – this time the motherboard must survive at least 24 hours in a hot environment with no airflow and no airflow coming from a CPU cooler.
The first MSI OC Certified motherboards should be commercially available later this month.

Source: MSI.com