NVIDIA has officially launched what seem to be the last Kepler architecture members – the GeForce GTX 650 and GTX 660 video cards. The new additions will cover the lower end market with Kepler chips and will allow NVIDIA to compete better in this market segment. As to gamers on a budget they will also have the opportunity to experience the latest and greatest NVIDIA architecture.
As usual the new graphics cards are based on 28 nm process technology although they significantly differ when it comes to the hardware inside. The GTX 650 is the slower card as the product number suggests – it comes with 384 CUDA cores but the GPU natively operates at 1058 MHz, which should compensate somewhat for the reduced number of cores. A downside is that the GTX 650 does not feature Boost Clock technology but that is to be expected of such a card. Other specs include 1 GB of GDDR5 memory at 5000 MHz, accessed via a 128-bit bus, 6-pin power connector, PCI-E 3.0 support, dual DVI ports, one mini-HDMI port, and no SLI support for a TDP of just 64 watts and a retail price of 109 USD.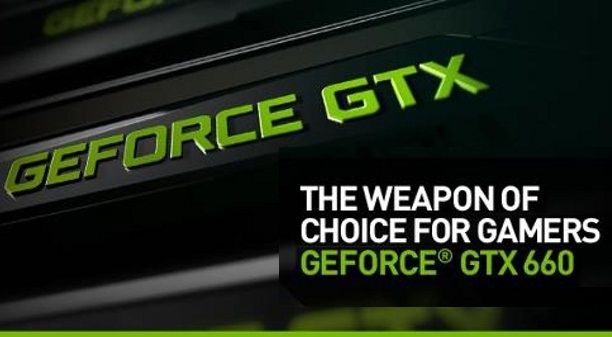 The faster GTX 660 comes with 960 CUDA cores and runs its GPU at 980 MHz/1033 MHz in Boost Clock mode. The card also offers 2 GB of GDDR5 memory running at 6000 MHz and accessed over a 192-bit bus. There's also a 6-pin power connector, dual DVI ports, one HDMI port and one DP port. The card fully supports PCI-E 3.0 as well as 2-way SLI and comes with 140-watt TDP. The GTX 660 costs 229 USD.
Performance-wise the GTX 660 measures quite well to the AMD Radeon HD 7870 but the card is not clearly faster with the winner determined by the 3D title being run. As to the slower GTX 650 initial performance numbers were given out by NVIDIA, which makes us think they may have been modified to make the GTX 650 look better than it actually is but judging from the performance numbers the GTX 650 seems to be a good card for its money. It offers around 20 per cent more performance than the older GTS 450 while using just half the power. NVIDIA also says the GTX 650 is around 15-20 per cent faster than the Radeon HD 7750 but all test results should be confirmed by independent hardware sites, which will surely happen in the next few days.
The GTX 650 and GTX 660 should already be in a hardware store near you.
Source: The Verge