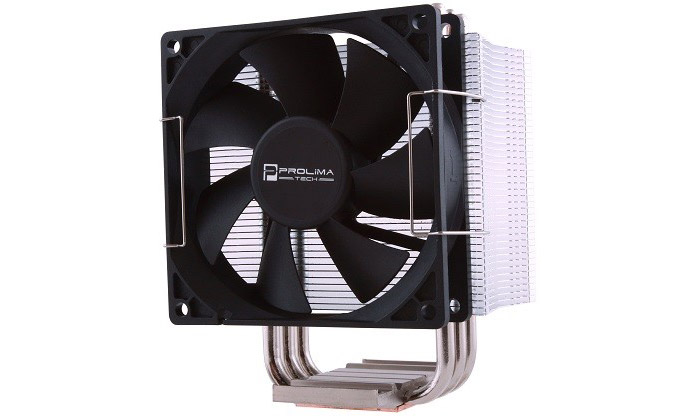 Prolimatech, a well-known maker of CPU cooling solutions, has announced the addition of the Basic series of CPU air coolers to its product list. This is the first line of budget-oriented CPU coolers in Prolimatech's product list – a clear sign of changes on the CPU cooler market where low cost liquid cooling solutions keep on annihilating high-end processor air cooling solutions.
The new line consists of five models. The first one is the Basic 45 – a cooler that measures 100 x 55 x 125 mm (LxWxH), weighs 288 grams and comes with a simple aluminum fin tower with two 6 mm copper heat pipes. The cooler depends on a simple 92 mm fan that spins at 1000-2000 rpm.
The Basic 48 is a more advanced model that has the same dimensions and fan but weighs 309 grams due to a third nickel-plated copper heat pipe. The Basic 65 offers dimensions of 130 x 50 x 148 mm (LxWxH) and a medium-sized aluminum fin tower with three 6 mm heat pipes – all cooled by a single 120 mm fan that spins between 600 and 1600 rpm. The Basic 68 is the same model, it's just that it has four heat pipes. Finally you get the Basic 81, which is the same Megahalems Basic cooler, launched in January 2013. It is a large one, measuring 130 x 75 x 158 mm (LxWxH) with weight of 748 grams. The cooler uses six 6 mm copper heat pipes and has two parallel aluminum fin stacks. The included 120 mm fan spins between 600 and 1600 rpm.
The pricing and the availability of all models are still unknown.
Source: Prolimatech