The German maker of CPU cooling solutions Be Quiet! has demonstrated two new CPU coolers called Dark Rock LP and Dark Rock TF.
The new Dark Rock LP CPU cooler is designed for low profile builds and offers a C-type aluminum fin-stack heatsink cooler as the LP in the name suggests. The cooler is designed for all modern Intel and AMD processors with TDP of up to 130W. The cooler has a copper base that then turns into a heatsink with four 6 mm thick copper heat pipes and on top of all this you will find the aforementioned aluminum fins. A Pure Wings 2 120 mm PWM fan cools this configuration and can be attached in a top flow configuration.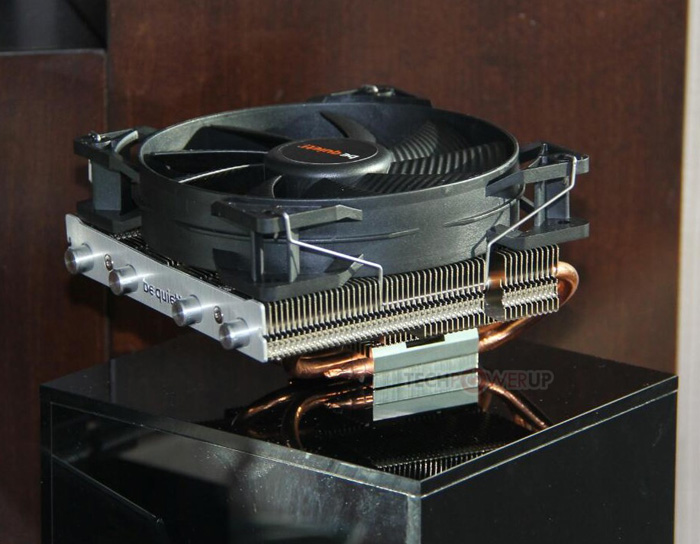 The Dark Rock TF CPU cooler is a more performance-oriented cooler and that's why it is bigger than the Dark Rock LP. The cooler includes two aluminum fin-stacks and the base consists of six 6 mm thick nickel-plated copper heat pipes. The bigger top fin stack is the home of two 135 mm Silent Wings PWM fans and this is the main reason why the Dark Rock TF can handle processors with TDP of up to 220 watts including the AMD FX-9000 series. Speaking of this the Dark Rock TF is compatible with all modern Intel and AMD processors.
No word on pricing as of now.
(pictures courtesy of Techpowerup)
Source: Be Quiet!