Thermaltake outs ARMOR A60 Mid-Tower with SideClick EasySwap HDD docking

Thermaltake has announced their new gamer-oriented PC case and as they claim is "the world's first SideClick EasySwap HDD docking mid-tower". The Armor A60 chassis, measures 480 (H) x 210 (W) x 500 (D) mm, weights 7.1kg, has black interior & exterior with metal mesh elements and integrated USB 3.0 connector on the front side of the case.
The Thermaltake's exclusive SideClick EassySwap design in the left side panel of the ARMOR A60, allows you "easier than ever to access" removable hot-swap capable 3.5" hard drives.The case also includes USB 3.0 and one USB 2.0 ports, HD microphone and headset connectors in the front panel of the case and  eSATA connector on the top. For better air circulation,  Thermaltake place one 20 cm blue exhaust LED-fan on top, one 12 cm intake blue LED-fan in the front and one more 12 cm exhaust turbo fan on the backside top, but there are still four more options to install additional fans. To avoid outside dust to find its way into your power supply a removable dust filter is positioned underneath, providing users with an easy way to keep it clean.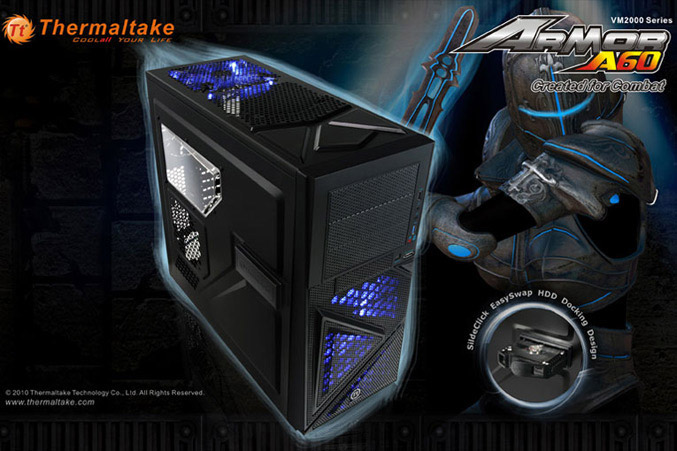 The ARMOR A60 is available for $89,90