The first pictures of AMD's upcoming Radeon 300-series generation have hit the Internet with the Radeon R9 390X leading the pack. Today we have pics of the new XFX Radeon R9 390X model, along with a retail box and we have to say that the new graphics card looks great!
The XFX Radeon R9 390X sports a custom-designed air cooler that is taller than the one featured on the company's Radeon R9 290 series models. The cooler takes up two slots and consists of two aluminum fin-stacks that run along the edges of seven 8 mm thick copper heat pipes, which draw heat from the GPU at the base. There's also a metal heat spreader that takes heat from the memory chips to the heat sink and individual metal heat sinks cool the VRM. The card features a pair of 6-pin and 8-pin PCIe power connectors, two dual-link DVI, one HDMI 1.4a connector and another DisplayPort 1.2a connector.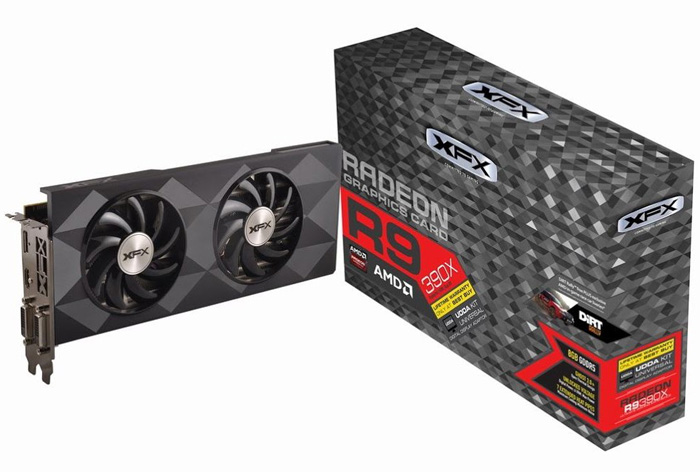 Inside the XFX Radeon R9 390X is based on the 28 nm Grenada GPU, which is a rebranded Hawaii GPU chip but the memory of the card has been upped to 8 GB from the 4 GB featured in the Radeon R9 290X. Perhaps Grenada will come with lower power consumption but this remains to be seen.
Source: Techpowerup.com