Users can finally feel free to leave their laptop behind when going to deliver a presentation. Research In Motion  introduced BlackBerry® Presenter, the latest accessory for BlackBerry® smartphones. BlackBerry Presenter is a conveniently small and light device that easily plugs into a projector or monitor, then lets the user display a Microsoft® PowerPoint® presentation wirelessly from their BlackBerry smartphone.
"Mobile professionals are always looking to carry less when travelling," said Glenn Laxdal, Vice President, Product Management, Research In Motion. "BlackBerry Presenter equips mobile professionals with a simple, secure and convenient way to deliver presentations directly from their BlackBerry smartphone, giving them the freedom to leave their laptops behind."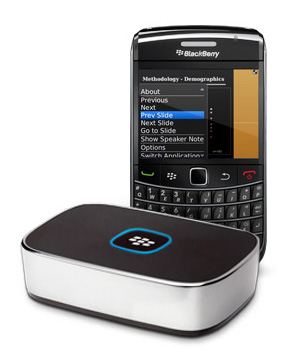 BlackBerry Presenter gives users easy control of their presentations, allowing them to navigate their presentations, view speaker notes, loop presentation slides and even reference information on one slide while displaying another. Thanks to a wireless (Bluetooth®) connection between the BlackBerry smartphone and BlackBerry Presenter, users can also walk around freely while presenting (supports roaming up to 30 feet between the devices).
Specifications
Conveniently small and light — 3.4″ x 2.4″ x 0.9″ and 140g
Video Formats Supported: NTSC, PAL
Video Cable Support: S-Video, VGA
Power Connection: Micro USB
Display Resolution Support: 640×480 (VGA), 800×600 (SVGA), 1024×768 (XGA)
Bluetooth Version 2.0 + EDR, Class 1.5
Carrying Case: Synthetic Leather
Support for most PowerPoint animations and transitions
No additional file processing required – present files directly without having to pre-process the file on the PC
Languages Supported: English, French, Italian, German, Spanish
Pricing and Availability
BlackBerry Presenter is being demonstrated by RIM at the Consumer Electronics Show (CES) in Las Vegas this week and will be available at a later date on ShopBlackBerry.com for $199. It will also be available at select authorized dealers and retail stores. To sign up for alerts on product availability, please visit www.shopblackberry.com/us/presenter.
Source: RIM