Seagate today rolls out a new external hard drive which along with capability to storage your docs, photos, music and videos, offers and multimedia player functionality, enabling you to enjoy your content on your TV in full 1080p HD and crystal clear surround sound.
The GoFlex Cinema offers a USB 2.0 port for easy drag and drop media files directly from your computer, camera or external hard drives, and is also equipped with  HDMI and Composite video outputs, and stereo and Optical S/PDIF audio connections, allowing you to hook it up to your HDTV or projector. It of course comes with an internal 7200 RPM hard drive, that can be easy upgraded with higher capacity GoFlex Desk drive in the future. GoFlex Cinema drive feature intuitive user interface that allows you to browse and play your media library easily and supports up to 1080p Full HD video playback, as well as it is capable of playing back almost every major media format, including MKV,H.264, AVI, MP4, as well as Dolby Digital, DTS audio, up to 20-megapixel images and subtitles.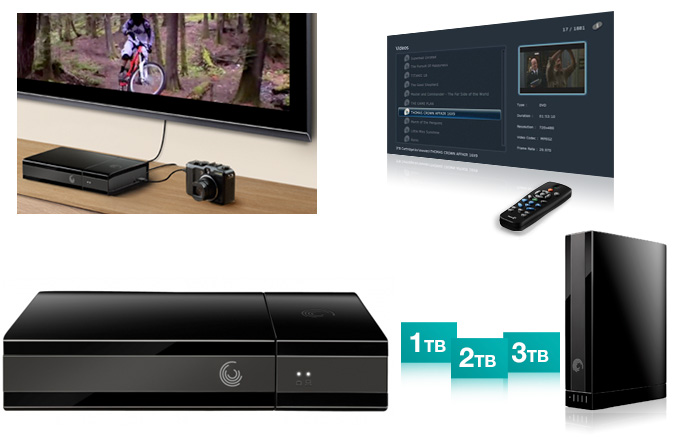 The Seagate GoFlex Cinema comes with a remote control and is available now in three models – 1TB model for €99, with 2TB storage for €129, and 3TB model for €179.