Sharp Information and Imaging Company of America (SIICA) today announces that the company has earned an "Outstanding Achievement" award from Buyers Laboratory, Inc. (BLI).
Sharp was recognized this year for the innovative features found on its newest multifunctional peripherals (MFPs) – the MX-2600N and MX-3100N – that offer dealers and their customers affordable, high-quality color combined with innovative features to streamline document workflow. These features include a standard, fully-retractable QWERTY keyboard; Sharp's Remote Front Panel capabilities with iDVM remote device management technology; and a sleek, distinctive design that accentuates any workplace.
"Sharp is extremely proud to be recognized by BLI for our innovations in both design and functionality," said Keith Yamasaki, senior vice president, Sharp Information and Imaging Company of America. "Sharp remains committed to providing users with enhanced functionality that enables them to increase their productivity. Advancements such as the retractable keyboard, remote front panel access and the cutting edge design are a result of the direct feedback from our users on how we can provide them with the best possible user experience."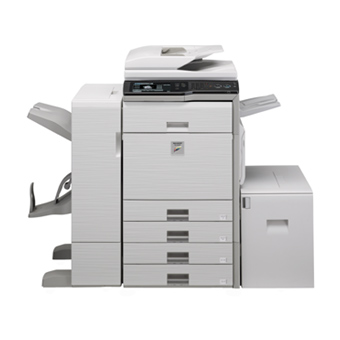 BLI, a leading independent office equipment test lab, announces its "Pick" Awards semi-annually to recognize breakthrough products in the digital imaging industry that have exhibited an outstanding performance during rigorous testing. Testing requirements cover reliability, image quality, ease of use, productivity, multitasking abilities, print drivers, administrative utilities and a host of network connectivity requirements. Testing takes approximately two months and includes extensive durability reviews by running each product at the manufacturer's maximum recommended monthly volume.
The MX-2600N/3100N's standard, retractable keyboard is ideal for workgroups that perform a significant amount of data entry. Users can quickly and easily make e-mail address and subject line entries, as well as perform repetitive scanning tasks and user authentication. This retractable, sturdy keyboard offers a familiar, ergonomic interface and makes the MX-2600N and MX-3100N convenient portals to the network, thus saving time on jobs that may require user authentication or include repetitive scanning and archiving of documents.
"As the scanning capabilities of MFPs are utilized more and more, the entering of e-mail addresses and longer, more secure passwords is made much simpler with this keyboard versus using the touch-screen keypads typically found on competitive MFPs," said BLI Manager of Laboratory Testing Pete Emory.
The innovative keyboard also enables users to unlock the full potential of the Sharp OSA™ development platform, making integration with network applications easier than ever and providing a truly customized user experience. Sharp OSA technology leverages the high-resolution color display of the MX-2600N and MX-3100N to support richer graphics, web-based HTML, and JAVA and Flash for the integration of moving video.
Emory continued, saying, "Because it makes it easier for users to enter index data, the QWERTY keyboard also helps to make these Sharp devices more functional with integrated software applications, while also making documents easier to retrieve later."
The MX-2600N and MX-3100N offer Sharp's new printer administration utility (PAU version 5.0) that incorporates a Remote Front Panel feature, allowing IT administrators to remotely take control of the device's front panel to see exactly what the end user is seeing. The IT administrator can remotely change settings, show the user how to perform a function, or diagnose and often rectify problems without deploying a technician. This innovative MFP capability dramatically reduces unit downtime and service expenses.
The capabilities of PAU version 5.0 are fully integrated into Sharp's intelligent Device Management (iDVM), which enables dealers to provide support of an onsite task remotely, leading to enhanced productivity and profitability, as well as reduced costs. iDVM also enables the dealer to automate meter read collection and integrate the data into their ERP system providing an enhanced, streamlined billing process. It also allows service providers to remotely access service logs, receive real-time service alerts and consumable levels notification, update firmware, and clone device settings, dramatically improving user uptimes and service support levels.
Finally, the distinctive new design of the new MX-2600N and MX-3100N make them ideal to be placed directly in the workgroup, rather than in a dedicated copy room out of sight. Featuring a stylish, textural exterior, sleek body lines, chrome accents and a brilliant color display, the new models are stylish yet also blend into a contemporary office setting.
For information about the complete line of Sharp MFP products, contact Sharp Electronics Corporation, Sharp Plaza, Mahwah, N.J. 07495-1163, or call 1-800-BE-SHARP. For online product information, visit Sharp's Web site at sharpusa.com.
About Buyers Laboratory
For 47 years, Buyers Lab has been the leading independent office-equipment testing lab and business consumer advocate. In addition to publishing the industry's most comprehensive and accurate test reports on office document imaging devices, each representing months of exhaustive hands-on testing in BLI's US and UK laboratories, the company has been the leading source for extensive databases of specifications and pricing on copiers, printers, fax machines and multifunctional products. The company's databases cover 10,000 products and have a long-standing reputation for being the industry's most trustworthy and complete source for global competitive intelligence. They are available to BLI subscribers online via the company's bliQ competitive information service. This encyclopedic resource also provides quick and easy access to BLI's First Look Reports, Field Test Reports, Lab Test Reports, Solutions Reports, and BLI-produced articles.
In addition to the testing of office equipment for its subscribers, Buyers Lab provides consulting services to buyers and a vast array of confidential for-hire private testing services that include document imaging device beta and pre-launch testing, performance certification testing, consumables testing (such as toner, ink and photoconductors), software and solutions and print media testing (including virgin and recycled papers).
Sharp's Newest Features

Powerful 800 MHz true multitasking color document system
High resolution touch-screen color display with graphical navigation
Retractable keyboard for easy data entry
Remote Front Panel
Front panel USB port
Gigabit Ethernet
Image Preview and Thumbnail view
Industry leading ImageSEND™ function scans documents to USB devices, network folders, e-mail and more.
XPS option available
Large paper capacity-up to 5,600 sheets (with options)
Supports Sharp's award winning multi-level document and MFP security suite
Advanced web-based device management with on-board user manuals
IEEE-P2600 compliant