Acer has prepared a yet new tablet in its battle with competitors for the tablet market. The new device is called Iconia Tab A700 and will be launched at CES 2012 this week.
The Iconia Tab A700 is indeed a very interesting high tech device. It runs on Android 4.0 Ice Cream Sandwich and comes with a quad-core Tegra 3 processor running at 1.3 GHz. What's even better is the screen – the Iconia Tab A700 comes with a 10-inch screen that supports 1920×1200 pixels resolution and is capable of playing full HD 1080p videos at the best possible quality.
Other features include Wi-Fi support, Bluetooth, 3G (which is optional, however), a microSD card slot, micro-USB, micro-HDMI and two cameras – one rear at 5 megapixels with auto-focus and flash and one 2-megapixel web camera. All this is powered by a powerful 9800 mAh battery that is supposed to give up to 10 hours of usage between charges.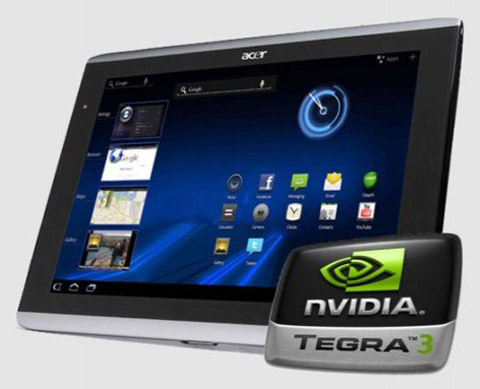 On the outside one would notice that the new Iconia Tab A700 strongly resembles the older A500. The new device is 9.8 mm thick and looks elegant and stylish but at the same time strong and solid.
Pricing is not known as well as the release date which is expected to take place in Q2 2012. Until then Acer fans will have to wait, unfortunately!
Source: Androinica