Acer presents a new 14-inch notebook that features two touchscreens and lacks of keyboard, but plenty of touch-enabled features and applications.
Both 14-inch CineCrystal LED-backlit TFT LCD displays have 1366×768 resolution and are protected by the ultra-thin yet durable Gorilla Glass for scratch and fingerprint resistant. The dual screens allows to do one thing in one screen and something else entirely on the other, as well content of web sites or documents can be spread across both screens. Iconia is powered by a Intel Core i5 family of processors, packs Intel HD graphics, 4GB of RAM, up to 750GB of storage.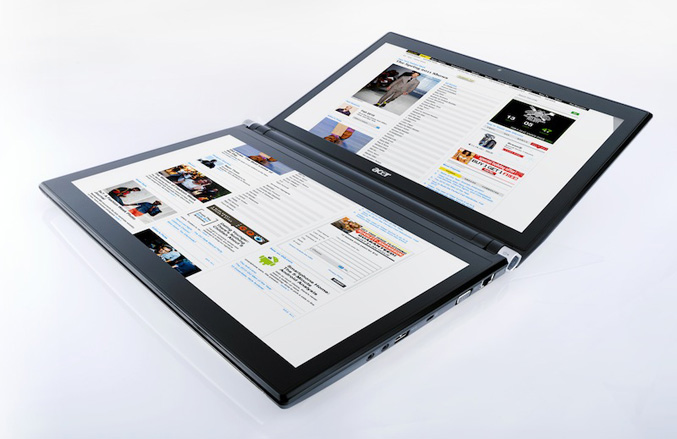 There are also 802.11 b/g/n WiFi, Gigabit Ethernet, Bluetooth 3.0, 3G, HDMI interface, one USB 3.0 connector and a 4-cell battery. Acer as well include a full range of intuitive and easy to use features and applications, such as the Acer Ring which appears simply by placing five fingers on the screen and making a grab gesture. It allows you to start touch applications by scrolling through the App cards and tapping on the one you choose. The Ring also provides fast access to: Virtual Keyboard, Gesture Editor, Window Manager, and Device Control Console. For example the Virtual Keyboard can be launched by placing both palms on the bottom display, it also includes a touchpad and a numeric keypad and can be easily switched to handwriting mode.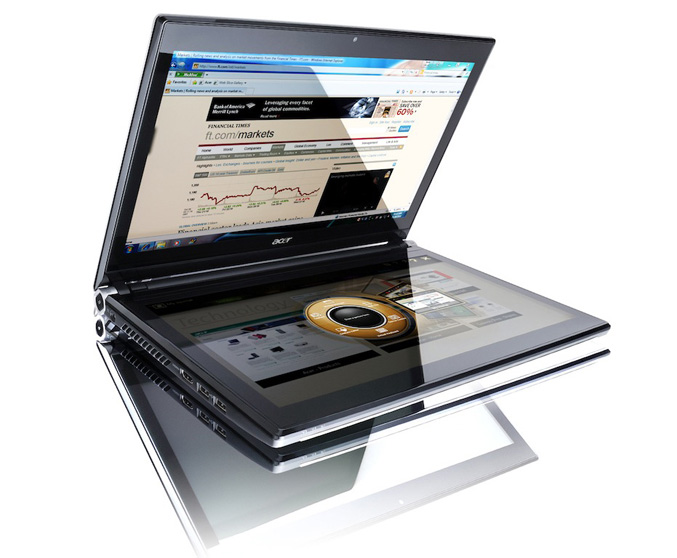 Acer also equipped Iconia and with standard already social network integration apps like SocialJogger, My Journal and Scrapbook, which will take care of your accounts in  Facebook, YouTube,  Flickr and other sources, and let you check posts and updates on the bottom display and use the second display for exploring and viewing more content.