The Lenovo Thinkpad Tablet 2 specs have made it to the Internet along with some pictures of the device.
According to the information the device will come with a 10.1-inch IPS display that works at 1366 x 768 pixel resolution, an Intel Atom dual-core processor, 2 GB of RAM, 64 GB of internal memory, Windows 8 and a battery that promises 10 hours of work time. The Thinkpad Tablet 2 will also feature NFC and a fingerprint reader.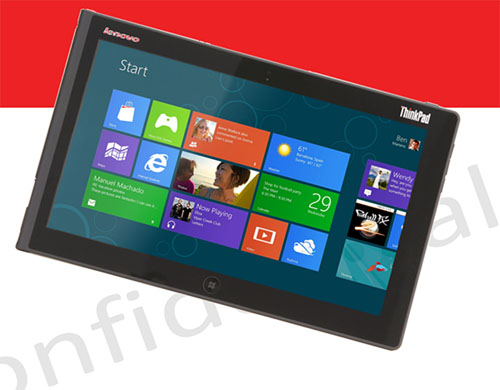 The new Lenovo Windows 8-based tablet also comes with a 8 MP rear camera, 2 MP front camera, mini-HDMI port, GPS, microSD slot, Bluetooth, Wi-Fi 802.11n support and HSPA + and LTE networks for a total weight of 1.4 pounds and 0.38 inches of thickness. The Lenovo Thinkpad Tablet 2 also will be equipped with a keyboard dock and a red TrackPoint.
Pricing is unavailable though.
Source: Techcinema.com