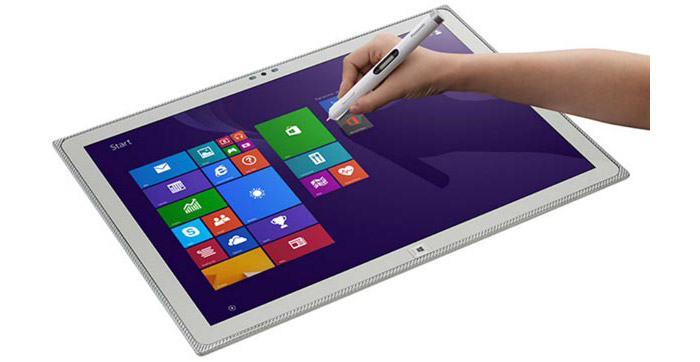 Earlier this year Panasonic demonstrated a 20-inch tablet that back then was just a prototype. Well the time to see such a device on the market has finally come with the Japanese company announcing this same product online.
The device is called Toughpad 4K UT-MB5 and comes with a 20-inch display at 4K resolution (3840 x 2560 pixels, 230 ppi) and 3:2 aspect ratio. The display is based on IPS Alpha technology and supports ten simultaneous touches. In addition Panasonic will provide a stylus for writing directly on the display.
Inside the tablet will have Intel Core i5 processors but apart from this there will be two versions of the tablet. The Basic one will have 4 GB of RAM and a 128 GB SSD, while the Performance edition will have 8 GB of RAM and a 256 GB SSD. All versions will run Windows 8.1. Of course the tablet supports all peripheral technologies such as USB 3.0, Wi-Fi, a microSD card slot, Bluetooth and more.
The price can be a problem though because the new 4K tablet will cost USD 5999 when it hits the market. European customers will be able to get this tablet this month while US customers will have to wait a little longer and get it sometime next year.
Source: Panasonic