US customers will be able to enjoy the new Samsung Galaxy Tab 7.7 starting March 1. The tablet will be available on Verizon Wireless's network for 499.99 USD with a 2-year agreement.
The Galaxy Tab 7.7 was first announced in January 2012 at the Consumer Electronics Show and this is the first time it hits stores in the US. The tablet comes with 4G LTE connectivity, a 1.40 GHz processor, 1 GB of RAM, a 3.2-megapixel-rear camera, a 2-megapixel front camera, 16 GB of internal storage and a microSD slot for cards with capacities of up to 32 GB. The Super AMOLED Plus display is 7.7-inch (not surprising given the name) and comes with 1280×800 pixel resolution. Right now the device runs Android 3.2 Honeycomb but an update to Android 4.0 Ice Cream Sandwich has been promised.
In addition the Samsung Galaxy Tab 7.7 sports various multimedia functions. Owners will be able to use the tablet to control all kinds of home entertainment systems, including TVs, audio players and other digital gizmos. Verizon also claims that customers can make their Tab 7.7 the master controller to find and watch their favorite TV shows, create a favorites list, set program reminders and more. The Galaxy Tab 7.7 also allows the streaming of media to compatible TVs using the HDMI Multimedia Dock with a built-in HDMI port or the HDTV Adapter (which unfortunately is sold separately).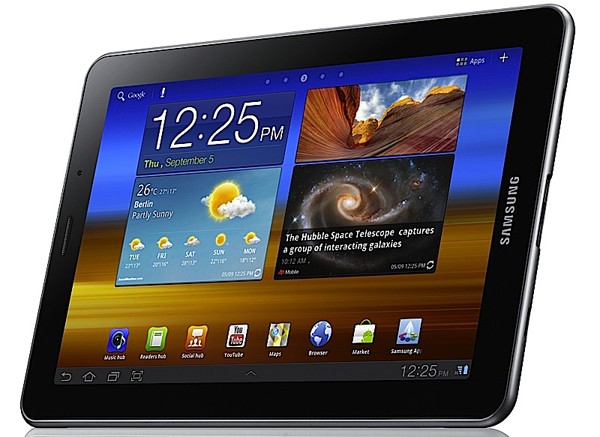 Customers who purchase the tab with a 2-year contract will also be required to pay 30 USD per month for their mandatory subscription to a 4G LTE mobile broadband package that offers access to 2 GB of data.
Source: Meetgadget