Toshiba Corporation , the industry pioneer in small form factor hard disk drives (HDDs), today introduced a new line of 1.8-inch HDDs with a capacity of up to 160GB on a single-platter, and a slim five-millimeter high profile targeting next-generation portable media players, digital video cameras and other consumer electronics products.
With an areal density of 723Mbit/mm2 (467 Gbpsi), the industry's highest , Toshiba's new MK1634GAL family of 1.8-inch HDDs offers consumer electronics manufacturers a thin and light package with the industry's largest[1] storage capacity, best power consumption efficiency, highest durability and quietest seek operation of any HDDs on the market.
Equipped with a PATA interface, 4,200 RPM rotational speed and acoustic-reduction features, Toshiba's MK1634GAL HDD is ideal for audio and video playback applications that require high capacity in a small footprint with quiet operation to maximize the entertainment experience of the host device. Leveraging Toshiba's long history of technology expertise in miniaturization and the 1.8-inch HDD form factor, the MK1634GAL is the quietest hard drive produced because of its size and the advanced acoustic management techniques that Toshiba has incorporated into all of its recent mobile HDD platforms.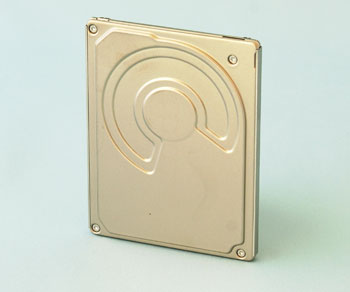 In operation, MK1634GAL family delivers significant environmentally friendly performance improvements from Toshiba's previous generation of 1.8-inch drive, including a 24% improvement of MK1634GAL in energy consumption efficiency . The MK1634GAL family is also compliant with the European Union's RoHS directive and halogen free.
Shipping now to consumer electronics manufacturers, the compact 160GB model leads the MK1634GAL family with mass production of the 60GB, 80GB and 120GB models scheduled in late September. The series targets a variety of consumer-oriented applications, including product lines that offer a range of capacities and price points.
Product Specifications
Model Number
MK1634GAL
MK1234GAL
MK8034GAL
MK6034GAL
Capacity
160GB
120GB
80GB
60GB
Number of disks
1
Number of heads
2
1
Average seek time
15 ms
Interface
PATA
Interface speed
100MB/s
Rotational speed
4,200 rpm
External dimensions
(W)54.0 mm x  (D)71.0 mm x  (H)5.0 mm
Weight
48 g (max)
Energy consumption efficiency
0.0019
0.0025
0.0038
0.0050
Category name[6]
g
g
g
g
Acoustics
Idle
14dB
Seek
15dB
Vibration resistance
Operating
19.6 m/s2 , 2.0G (15-500Hz)
Non-operating
49 m/s2 , 5.0G (15-500Hz)
Shock resistance
Operating
5,880 m/s2 (600G , 2ms half sine wave)
Non-operating
14,700 m/s2 (1,500G , 1ms half sine wave)
Source: Toshiba