Two New Video Cards From Nvidia

Nvidia published on its website information for two new video cards produced by the new 40 nm technology.
The first proposal is the Nvidia GeForce G210, it has 16 processor cores and a 589 MHz CPU clock speed, 512 MB DDR2 memory with 64-bit interface. The second is  GeForce GT 220 which has better system performance, using 48 processor cores 615 MHz CPU clock speed, 1 GB GDDR3 memory with 128-bit bus. Both cards support OpenGL 3.0, DirectX 10.1,  and CUDA, but GT 220 provides VGA, HDMI and DVI ports for connecting to monitors and TVs, while the GT210 relies on VGA, DVI and DisplayPort.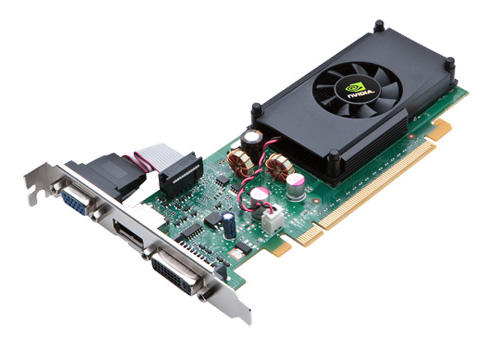 GeForce G210 GPU Engine Specs:
| | |
| --- | --- |
| Processor Cores | 16 |
| Graphics Clock (MHz) | 589 MHz |
| Processor Clock (MHz) | 1402 MHz |
Memory Specs:
| | |
| --- | --- |
| Memory Clock (MHz) | 500 MHz |
| Standard Memory Config | 512 MB DDR2 |
| Memory Interface Width | 64-bit |
| Memory Bandwidth (GB/sec) | 8.0 |
Feature Support:
| | |
| --- | --- |
| NVIDIA PureVideo® Technology* | |
| NVIDIA CUDA™ Technology | |
| Microsoft DirectX | 10.1 |
| OpenGL | 3.0 |
| Bus Support | PCI-E 2.0 |
| Certified for Windows Vista | |
Display Support:
Maximum Digital Resolution
2560×1600
Maximum VGA Resolution
2048×1536
Standard Display Connectors
DisplayPort
VGA
DVI
Multi Monitor
HDCP*
HDMI*
Via adapter
Audio Input for HDMI
Internal
Standard Graphics Card Dimensions:
| | |
| --- | --- |
| Height | 2.731 inches |
| Length | 6.60 inches |
| Width | Single-slot |
Thermal and Power Specs:
| | |
| --- | --- |
| Maximum GPU Temperature (in C) | 105  C |
| Maximum Graphics Card Power (W) | 30.5  W |
| Minimum System Power Requirement (W) | 350  W |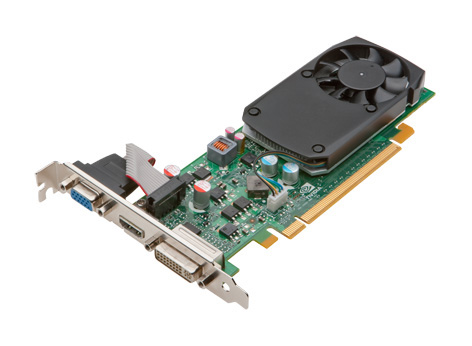 GeForce GT 220 GPU Engine Specs:
| | |
| --- | --- |
| Processor Cores | 48 |
| Graphics Clock (MHz) | 615 MHz |
| Processor Clock (MHz) | 1335 MHz |
Memory Specs:
| | |
| --- | --- |
| Memory Clock (MHz) | 790 MHz |
| Standard Memory Config | 1 GB DDR3 |
| Memory Interface Width | 128-bit |
| Memory Bandwidth (GB/sec) | 25.3 |
Feature Support:
| | |
| --- | --- |
| NVIDIA PureVideo® Technology* | |
| NVIDIA PhysX™-ready | |
| NVIDIA CUDA™ Technology | |
| Microsoft DirectX | 10.1 |
| OpenGL | 3.0 |
| Bus Support | PCI-E 2.0 |
| Certified for Windows Vista | |
Display Support:
Maximum Digital Resolution
2560×1600
Maximum VGA Resolution
2048×1536
Standard Display Connectors
DVI
HDMI
VGA
Multi Monitor
HDCP*
HDMI*
Audio Input for HDMI
HDA, SPDIF