Introducing the BDP-LX91: a true, reference-quality BD player with exceptional picture and sound performance – not just for Blu-ray Discs, but also for CD and DVD content.
Available across Europe in November, our anticipated BDP-LX91 flagship BD-LiveTM Blu-ray Disc player is designed to take your audio and video experience to the next level.
The reference-quality player features unique technologies and is built with the industry's most advanced components including a Pioneer-Renesas jointly developed core processor chipset.
The Ultimate Video Performance
The BDP-LX91 incorporates a newly developed 16-bit video engine to provide impeccable video decoding, I/P conversion, video scaling and video adjustments. Superior picture performance is guaranteed not only for high definition images from Blu-ray Discs, but also for DVD standard definition content – that can be enjoyed at 1080p.
Our proprietary Adaptive Bit Length Expansion technology reproduces the colours of a movie in their purest form, as if they were coming straight from the original studio master. Restoring the 8-bit video signals from Blu-ray Disc movies back to a vivid 16-bit deep colour gamut, results in an HD picture with an unprecedented range of more natural colour tones, similar to what the human eye sees in the real world. And with the smoothest gradation transitions enabled by HDMI 48-Bit Deep Colour, the BDP-LX91 creates an extraordinary image dynamic.
The inclusion of these innovative technologies ensures a stunning image, whether the BDP-LX91 is connected to a KURO flat screen TV or front projector.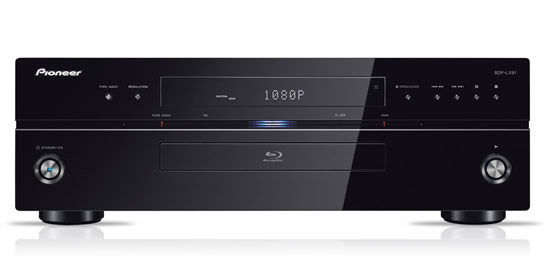 A Clear Auditory Experience
The BDP-LX91 was designed to match true-to-life images with studio-class sound. The model offers 7.1 channel Dolby TrueHD and DTS-HD Master Audio decoding and bit stream output to deliver crisp, rich audio that completely immerses the audience.
Audiophiles will certainly appreciate the new player's clever internal engineering, including a dedicated power supply for the analogue audio board, eight Wolfson Audio DACs – one for each channel – and custom-made capacitors.
Dual HDMI outputs allow separate audio and video signal transfer over dedicated HDMI terminals. CD playback will be perfected with our Precision Quartz Lock System (PQLS) that controls the audio signals between the Blu-ray Disc player and the selected AV receiver or amplifier. Jitter-free audio playback and the highest level of precision are guaranteed.
BD-LiveTM Compatibility
To take full advantage of the extra features becoming available on Blu-ray Discs, the BDP-LX91 features BD-LiveTM , which will further enhance and personalise the consumer's entertainment experience.
The player is equipped with an Ethernet port that allows movie enthusiasts to connect to the Internet to download data such as subtitles, images and bonus trailers, synchronise viewing with other BD-Live players and join in live chat sessions, online gaming and video messaging when viewing BD-LiveTM compatible titles.
Additionally, when future firmware enhancements become available, you will be able to upgrade your player via the BD-LiveTM connection.
Built for Purity & Performance
Exceptional build quality, featuring an aluminium chassis and ultra-rigid steel bottom plate, gives this Blu-ray player a reassuringly solid feel, which is supported by a stable centre player mechanism. A low-leakage toroidal transformer and separate audio and video boards minimise interference and noise, while rugged TAOC insulators help dampen external vibrations and lend to uncompromised audio and video reproduction quality.
Ease-of-use & Synergy
An easy-to-control graphical user interface (GUI) makes it extremely straightforward to use all of the player's functions, while a built-in KURO LINK feature allows users to control the BDP-LX91 with the remote of our compatible KURO flat screens.