Yamaha introduced the RX-V667 3D 7.1 Channal AV receiver, (90W x 7; MSRP $599.95) the BD-S667 Blu-ray player (MSRP $329.95) and YID-W10 yAired wireless iPod/iPhone dock (MSRP $149.95).
The RX-V667 provides 3D and Audio Return Channel support over HDMI 1.4a (6 ins/ 1 out), and versatility for 7 channel HD Audio or 5 channel plus height presence speaker playback via the company's proprietary CINEMA DSP 3D technology. Supporting full HD Audio decoding (Dolby TrueHD and DTS-HD Master Audio, as well as Dolby Digital Plus and DTS-HD High Resolution Audio) and analog-to-HDMI 1080p video upscaling  from non-HD sources. It also includes multi-lingual onscreen GUI that can overlay HD and 3D content to attractively display information and album art, four pre-set SCENE modes ("BD/DVD," "TV," "CD" and "Radio").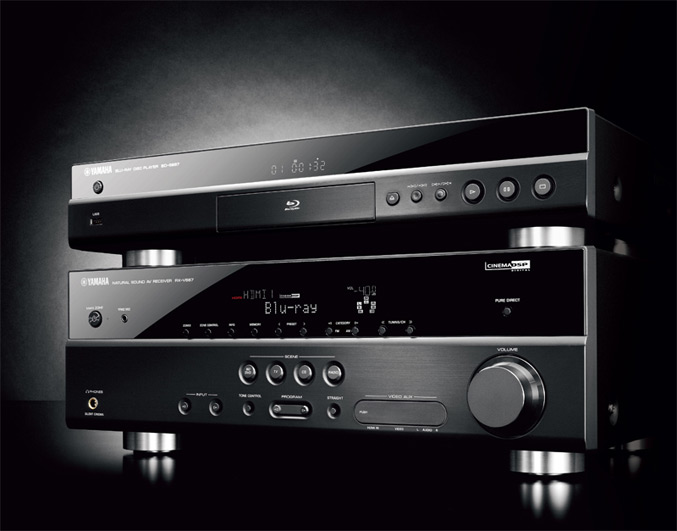 The model also offers Deep Color (30/36 bit) technology, x.v.Color, 24Hz Refresh Rates, audio input assign capability for HDMI and component video inputs and Auto Lip-Sync compensation, which automatically eliminates audio/video sync issues. Compressed Music Enhancer that restores dynamics to music files ripped from CDs or downloaded from the Internet.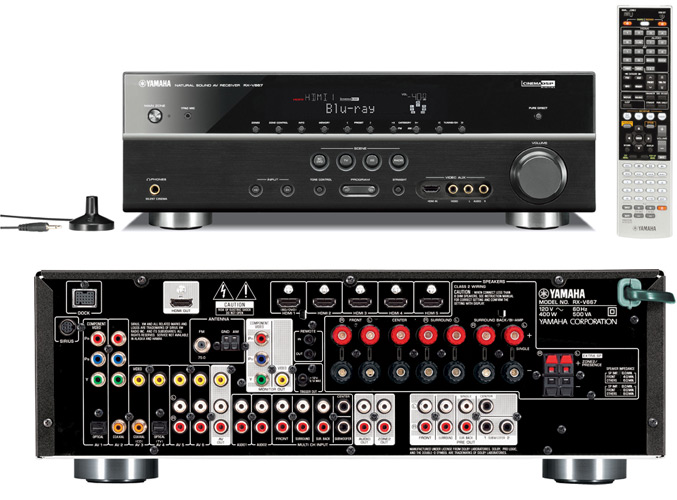 The RX-V667 offers great system versatility with Yamaha's IntelliAmp technology that enables users to assign amplifiers for bi-amp configuration, surround back, front presence or Zone 2 connection. The receiver also provides SIRIUS Satellite Radio compatibility and support playback from iPod/iPhone (audio and video) and Bluetooth-enabled devices (audio) via optional wired dock accessories, the Yamaha YDS-12 (MSRP: $99.95) and YBA-10 (MSRP: $129.95), respectively.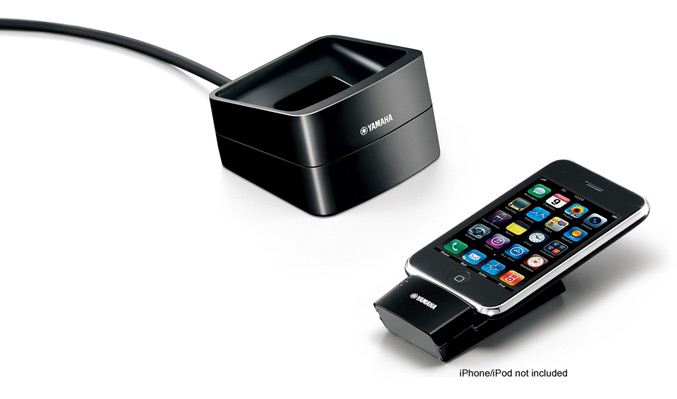 Yamaha's new optional YID-W10 Wireless Dock System enables users to listen to these portable devices through Yamaha's home theater system while keeping them in their hands.The YID-W10 integrates Yamaha's proprietary yAired wireless technology that enables users to watch video or play games with high quality lossless audio via iPhones without distracting lip sync or A/V matching problems.
The Yamaha Blu-ray player BD-S667 is fully compatible with RX-V667 receiver's SCENE mode and offers high video and audio quality with 1080p/24kHz-compatible HDMI video output, full HD Audio decoding and playback of all current HD formats. It is also compatible with Netflix platform, has an on-screen display GUI, DLNA client certification, Internet connectivity,  multimedia compatibility for Disc and USB formats including AVCHD, WMV, JPEG (HD), MP3 and WMA. It can also playback JPEG slideshows with MP3 audio soundtracks.Other key audio and video features include direct bitstream and multi-channel Linear PCM output via HDMI and analog 2-channnel down-mixed audio output, 192kHz/24-bit audio DAC, x.v.Color and Deep Color compatibility, as well as 1080p playback for DVDs, photos and home movies.