Creative Technology Ltd. today unveiled the Creative ZEN® X-Fi®2, featuring a stunning 3-inch touch screen and award-winning Xtreme Fidelity™ X-Fi audio technology, continuing Creative's quest to deliver the best-sounding music, photo and video players on the market at a great value. Making its premiere at the Showstoppers Event at the IFA Consumer Electronics Show on 2 September 2009 in Berlin, Germany, the Creative ZEN X-Fi2 media player can be ordered at the online store at creative.com/shop in Europe.
Sporting an ultra slim exterior with an elegant look in 8GB, 16GB and 32GB models and with exciting price points, the Creative ZEN X-Fi2 media player features a 3-inch TFT LCD touch screen with a beautiful, intuitive interface for easy navigation, plus multi-format support including iTunes Plus and FLAC (lossless) files.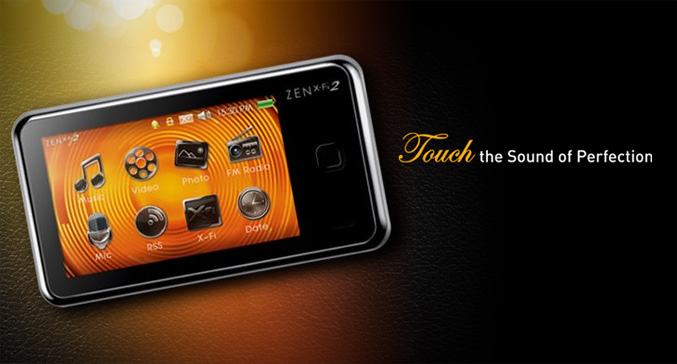 It also offers video-out capability for viewing videos and photos on a TV through an optional cable. The player also features a microSD card slot for expanded memory.
"In August of last year, we launched the ZEN X-Fi player, designed to be the best-sounding portable digital music player ever, achieved by implementing our ground-breaking X-Fi audio technology. The response from our users was overwhelmingly positive – they really loved how phenomenal their MP3 and iTunes music sounded with X-Fi," said Joseph Liow, Vice President, Personal Digital Entertainment Products of Creative Technology Ltd and General Manager of Creative Labs Asia.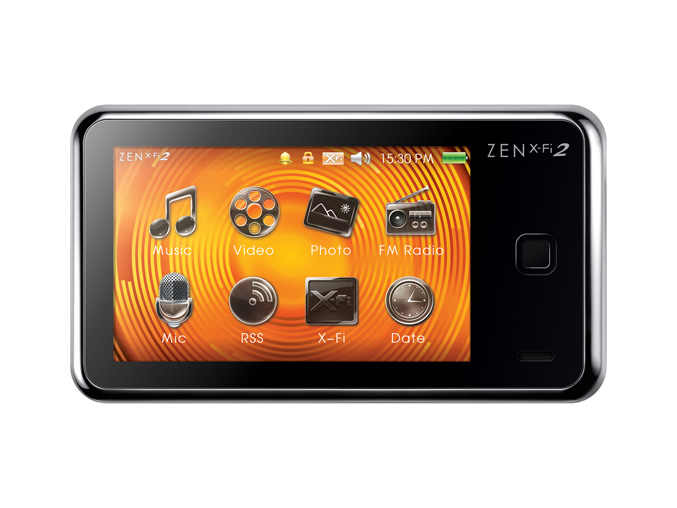 "In setting out to design our next generation player, we felt it was essential that we start with the sound quality of the ZEN X-Fi player and make the ZEN X-Fi2 sound even better by implementing the latest X-Fi technology. We wanted to have X-Fi improve the audio playback across all modes of entertainment including music, video and FM music from the radio*. Next, we added features to significantly enhance the user experience for music, photos and videos, all in a player with a sleek design. We wanted to make the ZEN X-Fi2 even more fun to use by implementing a touch screen interface. To upgrade the video watching experience, we increased the size of the display with a stunning 3-inch touch screen. The combination of adding a touch screen and a larger display also substantially enhances photo viewing, as now users can quickly and easily scroll through photos."
"To further enhance the video and photo playback capability, we've added a TV out connector so that users can easily connect the ZEN X-Fi2 to a TV. To achieve a sleeker design, we've incorporated a microSD slot compared to the larger SD slot on the ZEN X-Fi. The ZEN X-Fi2 is also substantially slimmer than the ZEN X-Fi, plus the overall feel of the player in your hand is improved by its curved design. With all of these additional features, we're really pleased that we are able to achieve another design benchmark, bringing the ZEN X-Fi2 to market at exciting price points for our 8GB, 16GB and 32GB players," added Joseph Liow.
Users can experience music in pristine crystal clear quality and detail through the power of X-Fi audio technology. X-Fi Crystalizer™ intelligently restores lost detail, enhances the digital audio content to amazing clarity and delivers the most acoustically natural headphone audio available from a media player. With X-Fi Expand, users can enjoy the most natural sound staging available in headphone audio today. The built-in X-Fi technology intelligently moves a conventional left/right earphone stereo source away from the ears, virtually expanding it for an audio experience with a breathtakingly realistic depth of field. With the Creative ZEN X-Fi2 media player, users can enjoy adjustable X-Fi Crystalizer and X-Fi Expand levels according to their preference.
With expanded multi-format support, the Creative ZEN X-Fi2 enables users to access their music and audio in MP3, WMA, AAC, Audible 4 and FLAC, and video files in WMV9, MPEG4-SP, DivX** 4/5 and XviD formats. Users do not have to worry about file incompatibility or troublesome file conversions just to access favourite music, photos or videos.
TV-out capability enables playback of movies and pictures on a large screen, and users can also sync and download RSS feeds and read them offline on the media player.
Creative ZEN X-Fi2 Features Include:
Capacity: 8GB, 16GB & 32GB (availability may differ in different regions)
Dimensions: 102 x 57 x 11.6mm
Weight : 75g
A vibrant 3-inch TFT Touch Screen LCD with 262,000 colour support for an excellent viewing experience with videos and album art
X-Fi Audio Enhancement:

Adjustable X-Fi Crystalizer to restore the highs and lows to music during playback that was lost during the ripping process
Adjustable X-Fi Expand to move and expand the sound forward for a natural listening experience over headphones that simulates the sound from stereo speakers

Audio formats: MP3, WMA(DRM9), Audible4, AAC, FLAC
Video / Audio Out: PAL or NTSC in stereo (via A/V cable sold separately)
RSS: Display RSS content feeds offline (Sync via PC/laptop connected to Internet)
Expansion slot: microSD memory card slot to add more music, video or photos to the media player
Built-in speaker
Flexibility to arrange the main menu icons according to preference
Video format support: WMV9, MPEG4-SP, DivX** 4/5, XviD
Photo formats: JPEG, BMP
Built-in microphone for voice recording
Built-in FM radio with 32 presets
Clock / Alarm / Calendar / Task / Contacts Functions (Sync with Microsoft Outlook via PC/laptop)
Free preloaded music tracks from eMusic, a digital music retailer offering music fans an alternative to mass market retailers, with a corner music store vibe, incisive reviews and great music. Included tracks are by Ani DiFranco, Anuhea and Blessid Union of Souls. These tracks are courtesy of Righteous Babe Records, OneHawaii Music and V2 Records.
Courtesy of Audible.com, the first book in James Patterson's Maximum Ride series in a full length preloaded audio version valued at US$19.99. Soon to be a major motion picture, Maximum Ride: The Angel Experiment. Patterson's thrilling story is narrated by Evan Rachel Wood, star of Across the Universe, The Wrestler, and Whatever Works.
Creative ZEN X-Fi2 Accessories
A slim and stylish black leather case keeps the player in pristine condition at all times, available for €19.99
A silicon skin protects the player from knocks and bumps, available in clear and pink for €14.99
A customised screen protector ensures the screen is scratch-free, available for €9.99
A/V cable brings digital pictures and videos with audio to the television screen with ease, available for €19.99
ZEN USB power adapter charges the player via USB without the need to plug it into a PC, available for €19.99
Pricing and Availability
The Creative ZEN X-Fi2 media player is currently available for order at the online store at creative.com/shop in Europe at the suggested retail price of €129.99 for the 8GB model, €179.99 for the 16GB model and €229.99 for the 32GB model.
Source: Creative