If you want to pay less for your business telephone system you should consider VoIPstudio's hosted PBX. Every entrepreneur looks for cheaper and more flexible way to develop their company's telecommunication's structures. Now, with the aid of VoIPstudio, you will not have to buy any expensive hardware as all you need is an internet connection.
I just finished testing VoIPstudio and have to say it's a very nice hosted PBX. When we think of business telephony system we usually think of landlines. But there is another, easier way to maintain a professional internal and external telephone system in the company.
This cloud based communication solution allows  you to use your computer as a telephone, fax machine or even as help desk support. All you need to make and receive calls is an internet connection. You can choose virtual local numbers from over 4000 cities globally, and activating new numbers within minutes.
Мaking your first call is easier than you think, because all you need to do is choose a virtual extension. You can choose international numbers that enable you to set up your company's telephone network worldwide.All this is done with the help of a nice and user-friendly web platform. Yes, that's right, you can access and modify your system in a web browser or through dedicated applications. This flexibility is another benefit of this system.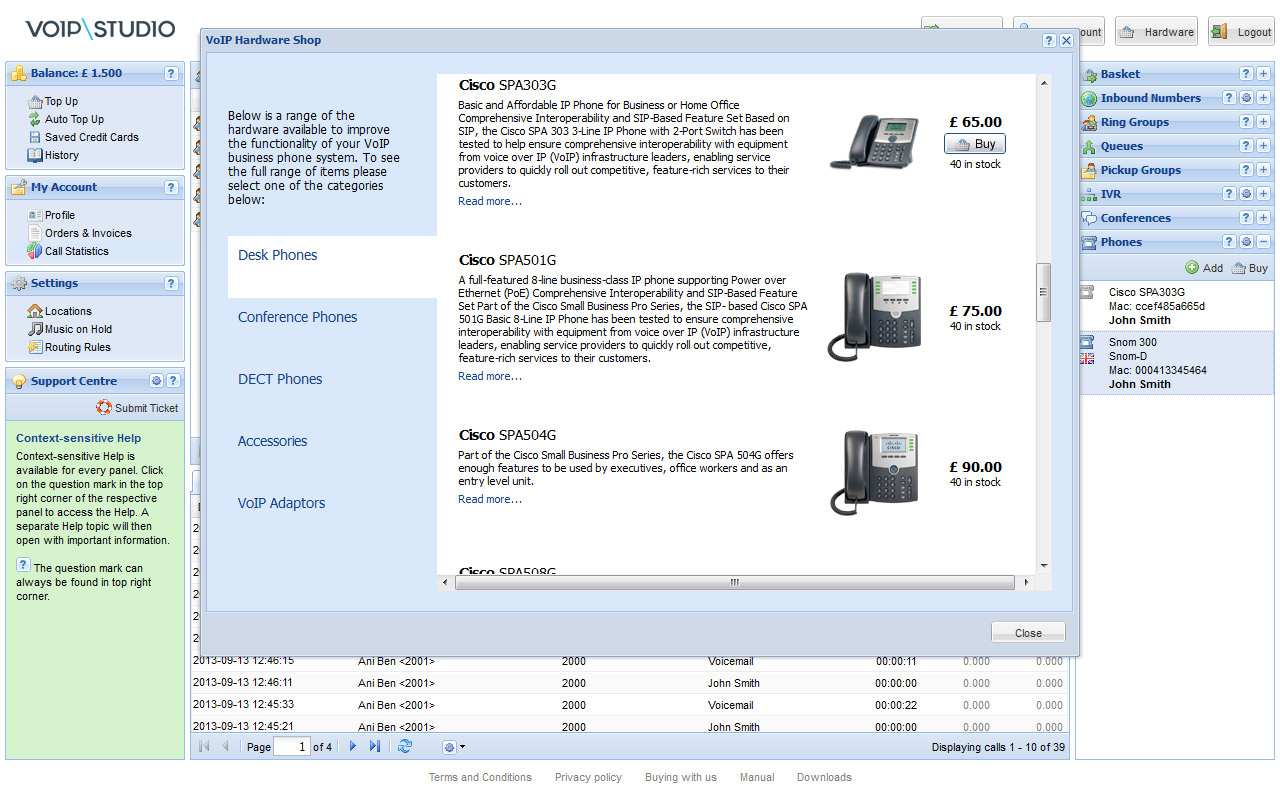 Let's consider some other interesting features
Free internet calls.  This means that calls are very easy to make and even better, free of charge. Employees can dial any extension inside their company for free.
Reduced call rates for external calls. By using the internet for call routing costs and fees can be reduced. That means that you can save up to 50% on your call costs just by migrating to a cloud based PBX.
Instant deployment. You do not need any additional hardware to start using this telephone system. In my case, I only had headphone and microphones for my computer.
Hosted PBX.  By using a cloud based PBX you do not need any expensive hardware, which meant that I was able to set up independent virtual numbers  very easily.
Contacts directory. This is the easiest way to maintain all your business contacts. It lets you search for phone numbers in a mater of seconds.
Call transfer. This application works as you are used to with a standard PBX system. You can transfer any call to any extension inside your company even if your organisation is spread between different locations.
Conference Calling. This features enables you to open virtual conference rooms for any number of participants.
Online Chat. Within any price plan you can use this telephony system  as an online chat platform inside your company.
How was the usage?
Well, I have to tell you that I was very nicely surprised. I used  my free 30-day trial and all 100 call minutes. I made some calls using one of the free softphone application for mobile devices. The call quality was very high and the bills were much smaller than what I am used to.
However, I wasn't able to use all features. There are just too many of them. But I must say that the usage experience is as it is supposed to be. VoIPstudio is a reliable and professional solution for a company of any size.