LG Electronics (LG), a global leader and technology innovator in mobile communications, announced today that more than five million LG-KP500 "Cookie" mobile phones have been snapped up worldwide since its launch nine months ago. This gives Cookie the distinction of being the fastest selling device among LG's range of full touch screen phones.
"Achieving five million units in sales in only nine months is proof that we're on track with our goal to make Cookie a phone that's loved by everyone," said Dr. Skott Ahn, President and CEO of LG Electronics Mobile Communications Company. "Our strategy to provide a full touch screen phone at an affordable price has succeeded beyond our original expectations. If the current trend continues, we expect to see Cookie hit sales of 10 million by the end of this year."
The LG Cookie has been breaking its own sales records at a terrific rate since it was launched in over 60 countries in November 2008. The phone was an immediate hit and achieved one million in sales in the first fourteen weeks after launch.
To put this into perspective, 19,000 LG Cookies have been sold per day which equates to 791 units every hour or nine phones per minute. Five million LG Cookies placed side-by-side would cover an area of almost 29,500 square meters (35,281 square yards). Placed end-to-end, the line of Cookies would extend 535 kilometers (1,755,249 feet) which is over 60 times the height of Mt. Everest.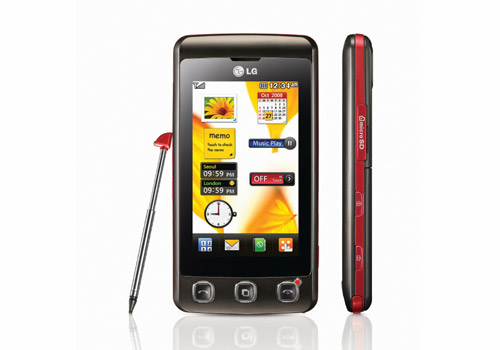 According to Germany's largest market research firm, GfK (Gesellschaft für Konsumforschung) Group, the LG Cookie has stayed firmly in the top ten on the sales charts in major European countries for most of the year.
As a slim and lightweight handset, LG's Cookie is fully equipped with most of the key features found in premium full touch screen phones, including a 3.0 megapixel camera, 3D accelerometer and an Active Flash User Interface with vivid widget icons to provide easy access to commonly used functions.
LG varied the line-up of Cookie colors as consumers today are increasingly accessorizing their mobile phones. To give customers more options, LG expanded its offering by 10 new colors in addition to the original four — black, Vandyke brown, anodized silver and elegant gold — available at the phone's launch.
Thanks to the popularity of Cookie, LG is predicting continued strong sales into the future. In addition to the fast-growing customer base of Cookie owners, LG will continue to drive sales of the next-generation full touch screen phones, such as Arena, throughout the year.
Source: LG